Subverting the Realist Impulse in the Work of Shauna Born
by Robert Anderson
October 9, 2014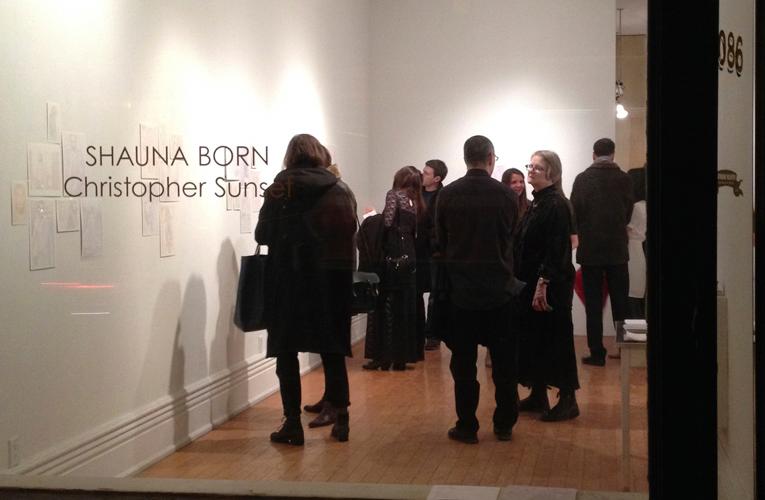 Shauna Born's latest series of drawings, Christopher Sunset, opened at Kartharine Mulherin Contemporary Art Projects. Approaching the gallery, it's hard to believe Toronto's West Queen West was once a derelict district dominated by a sprawling, archaic mental institution. By the late 1990s, and driven by cheap real estate, some of Canada's most innovative art galleries emerged here. But artistic success came with a price: Gentrification soon followed and galleries left for cheaper industrial areas.
At the height of West Queen West's artistic fervor, Katherine Mulherin operated three galleries on the "street". Though she has since courted an international presence in the American market, one of her galleries remains in West Queen West and 32-year-old Shauna Born is one of her brightest stars.
This series continues Born's interest in exploring representation and reality. Drawn to resemble French fashion model Patrick Petitjean, Christopher Sunset is a fictional character created by the artist.
Sunset is a ubiquitous modern day man of adventure: Think Marlboro Man of the 1960s. In Christopher Sunset #2, the ruggedly handsome Sunset's coat blows open, revealing his bare, muscular chest and flat stomach. In another, he walks down a runway modeling a three-piece suit, jacket slung over his shoulder, and a stylish hat.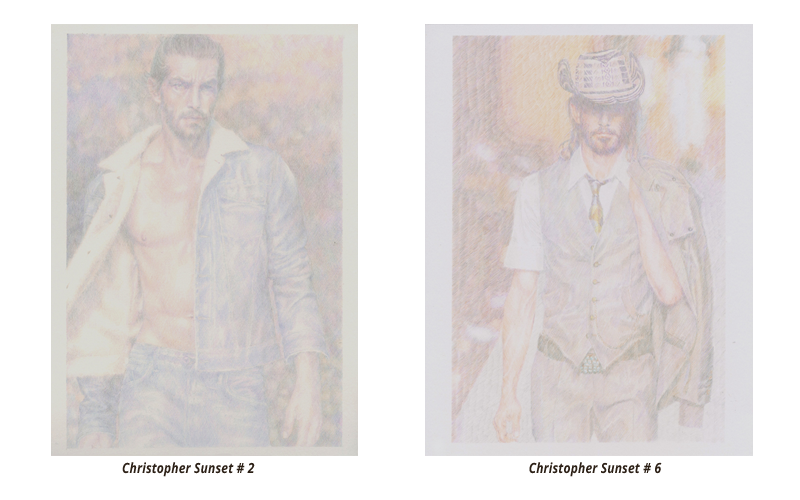 These small scale, unframed, color-pencil drawings hang in clusters throughout the gallery. With Christopher Sunset, Born undermines her own highly referential drawing abilities by using hatching techniques, recalling etchings and early renaissance tempera paintings. The results are visually muted drawings, reminiscent of faded photographs, complete with the thin white borders.
These "borrowed" images, along with Born's renaissance technique, place modern day scenes into another context, another historical time, and undermine the current art world's obsession with the real. According to Born, "Through this recontextuallization of imagery I am questioning the authenticity of the image and a perceived narrative both gathered and displayed through representation."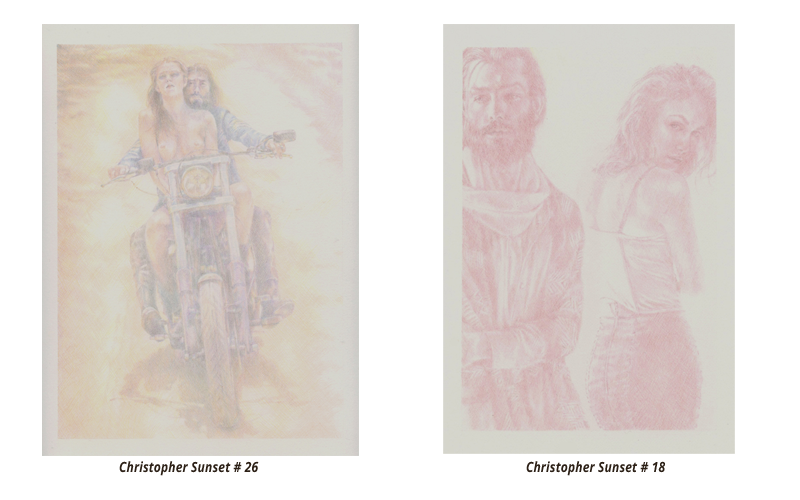 One picture, like a still image from Easy Rider, shows Sunset riding a motorcycle with a shirtless female sitting in front of him. Ecstasy overcomes the female's face. Sunset stares ahead. Clearly this is an image painted as a male fantasy. Sunset's gaze on the viewer makes us complicit in the scene. In "drawing # 18", we see another scene of Sunset with another woman, but something has changed. This time the female turns her back on Sunset while her gaze is on the viewer and Sunset looks off to the side. Born has managed to convey a sense of complexity in a relationship of two fictional characters. The monochrome drawing suggests film noir, Bogart, and Bergman. By suggesting this heavily codified filmmaking genre of the 1950s, Born again subverts reality and presents what is easily the most aesthetically pleasing picture of the series. The only context for the picture is its relationship to the others hung on the wall.
An iconoclastic mythology is emphasized with the older Sunset character. The "Playboy of the Western World" gives way to a displaced messianic figure. The long hair and unkempt beard suggests another time, a sense of closer, perhaps like the finality of Jim Morrison in Paris.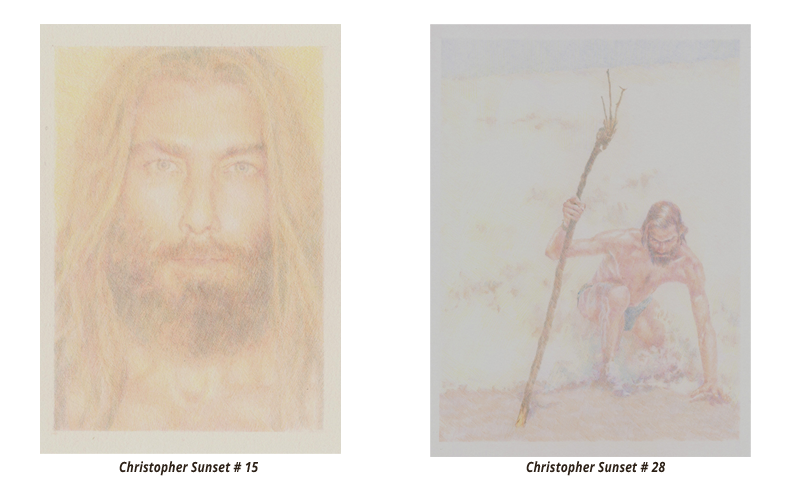 Like holograms without substance, these images raise questions of representation. They refer to the idea behind their creation. This is the theorizing of Marshall McLuhan and the mass media. Can there be an authentic image in the mass media? If earlier pictures make it look like our fictional character is selling a product or lifestyle, later images suggest a man who has nothing left to offer the material world. But did he really have anything to begin with? "The Fall of Man" or "The Representation of the Fall of Man"?
Christopher Sunset is quiet a departure stylistically from Born's previous series but it does follow similar conceptual concerns of representation. All the Boys I'd Like to Fuck is the audacious title of nearly two hundred ballpoint pen drawings of pretty young males. "In the Boys series," explains Born, "I wanted the hairstyles, facial features, expressions etc. to be the only identity signifiers that the viewer had to work with."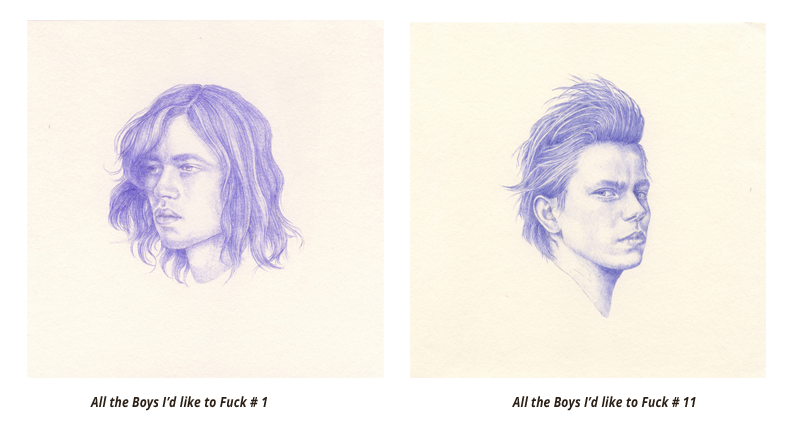 These are the hyper sexual images of youth culture, dominating the mass media since the 1960s. This is the lore of eighteenth century poet Arthur Rimbaud forever immortalized as a rebellious teenager, creating his own personal mythology. His iconic image is based solely on one photograph of himself.
Still we have the everlasting teenage heartthrobs, from David Cassidy to Justin Bieber. Many of these boys have long flowing locks, pouty lips, and the drug-induced heavy eyes of a Jimmy Page. Are these pictures of youthful males too impossibly beautiful to be true? Explains Born: "The majority were drawn from photos found on the internet. I don't think it is relevant whether I know the guys or not, or if they are based on real people or not. This series is about desire and fantasy, so even the drawings that were based on real guys are not drawing of real guys…If anything my work is a portrait of myself I guess."
Desire becomes paramount in the work. The Boys are passive objects; the sexuality/desire of the audience brings meaning to the work. Poet Rimbaud's "I is another" seems relevant. With Born, the "I" is there only for its representational value.
A precursor to The Boys series is one of Born's most visually arresting images titled Big Red.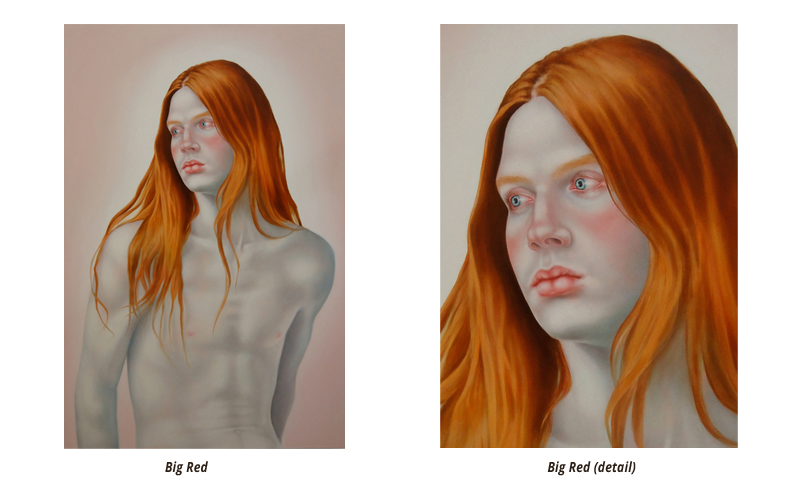 The 72 by 48 inch paintings notable features: the bright, long orange hair, the soft palette, pale skin tones, pouty lips, pinkish rouge cheek bones, and impossibly pale blue eyes. The canvas background is bubblegum pink with a white, angelic glow around the subject's head. It's a Born representation of beauty, based on a composite of three males. Born calls it "a reactionary painting." It's a comment on Western culture's obsession with female beauty. According to Born, "I was just turning the tables, saying guess what? Women can paint Ideal Beauty! I can objectify a fella for his looks too." She adds, "I love/lust this Big Red monster…" Beauty remains a subjective term. The postmodernist question: What can be represented in painting and what can't?
As the Christopher Sunset opening night winds down, I find myself drinking black coffee in a new Starbucks just along the street from the gallery. Easily, the nicest Starbucks in Toronto now. I reminded myself that it was the site of a rundown rooming house. Then West Queen West artists and hipsters protested the opening of franchises symbols of American imperialist culture. Trendy new condos and boutique hotels now line the street. The walled mental institute has undergone at 300 million dollar renovation and embraces a new welcoming philosophy dealing with the mentally ill. The demise of West Queen West is clearly subjective. When Times Square in New York City was cleaned up of strip joints, prostitution, and drug dealers, artist Nan Goldin bemoaned the loss of the good old days. That era informs Goldin's artwork, making her who she is as a person.
Born does not directly offer us any location or historical knowledge of her characters. But postmodern artists draw our attention to how we encounter an image; Shauna Born's artistic practice demands that we, as viewers, attend to the history and locations through which we encounter her work. My knowing this area of the city all my life, and remembering what it represented to me and the art community, is part of the knowledge that informs my experience of the show. History also reveals the model that played the cigarette smoking Marlboro Man died of lung cancer. Much like the Surrealist artists, with their incredibly skilled drawing abilities, she mirrors reality and life situations in order to subvert our assumptions about them. Shauna Born's interest in representation and the construction of meaning elevates her artwork to so much more than conventional aesthetics.