A French Priest, Tears and Fire: The Art of Jean-Michel Othoniel
May 26, 2012
Seoul, South Korea
X
About Kayti Doolitle

Kayti Doolitle graduated from Missouri State University with a Bachelor of Fine Arts in Painting and a minor in Creative Writing. She is the Art and Film Reviewer for Fjords Review. Kayti is writing an anthology of essays about the sex industry in countries around the world, while living in South Korea.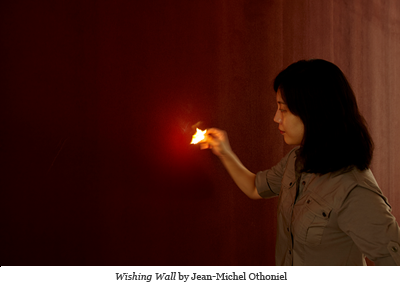 Used matches line the bottom of Jean-Michel Othoniel's Wishing Wall, for his My Way exhibition at the Plateau Samsung Museum of Art in Seoul, South Korea. The large-scale wall is covered in one of Othoniel's precious metamorphic mediums: phosphorous. Viewers are advised to strike the match on the phosphorous, lighting the small stick. This process produces an original mark incised in the deep red of the wall. To complete the performance, the viewer blows out the match, leaving it at the foundation of the wall, making a wish. The Wishing Wall is covered with sharp scratches or wishes of people from all over the world, even a wish from Kansas City, Missouri. If only walls could talk.
From the Wishing Wall, the exhibition begins with Othoniel's earliest work, Self Portrait in a Priest's Robe. The 1986 4.6 X 6.7 cm black and white photograph is considered Othoniel's first true artwork. The image of Othoniel twirling in a priest's robe outdoors is rich with pointed and clear tones. The scene appears to be joyous but also exudes an uncertainty. Of all of Othoniel's pieces, this work is the only one that articulates something somber, haunting and dark.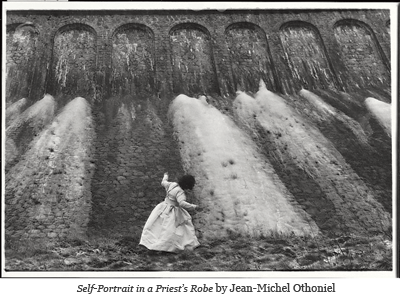 As an adolescent, the artist fell in love with a young seminarian. The love ended when the young seminarian tragically died. Wrapped in the stiff white of the priest's robe, which now hangs as the second piece of the My Way exhibition, Othoniel mourns. He dances in the black and white photo for the boy he once loved, for the body that is now absent. And so, My Way begins with wishes and a love story.
Othoniel magnifies life's tragedies, loss, AIDS, and glory holes by constructing them out of brilliant colors. Even an anus has its own innate splendor. He finds beauty in the repulsive through animated forms and metamorphic mediums such as glass, sulfur and wax. His work is diverse. It ranges from photography to sculpture to paintings. Years of these works, like devotional objects, devour the walls with bright purples, greens, pinks and blues.
The Map of France on Tolie de Jouy, created in 1988, is a small sulfur silhouette of the country of France painted on red and white romantic fabric. Sulfur or soufre in French means suffering; this double meaning gives Othoniel's work a poetic sensibility that is both playful and layered. This image is not just a map of France on pretty fabric; it has yet another poetic position. To draw a map of France implies a 'wet dream' in French.
His 1997 work, Scar Necklace, was a tribute to another artist and friend, Felix Gonzalez-Torres, who died of AIDS in the previous year. On the avenues of Paris, these little red glass necklaces, meant to represent scars, were passed out to over 1,000 people during Gay Pride. Photos were then taken of these unknown people. This performance of giving and photographing these necklaces was a way to celebrate and grieve these scars simultaneously. This process lasted eight hours. Later, these photos were displayed and are now part of the My Way exhibition.
The My Way show feels like a collection of self-portraits. All the components or issues of Othoniel's life are hoarded and compartmentalized. This subject matter is universal and relatable to people on all hemispheres. Most people hoard unmovable memories. Some people use diaries. Some people hoard their grown children's clothing in plastic bins. Others let newspapers from decades past stack in bedrooms and closets. Jean-Michel hoards mental images, obsessions, feelings and scars, reforming them into images that look like something out of a fantasy book.
Othoniel uses glass as a main medium, which does not necessarily follow contemporary art trends. Glass has a tendency to appear crafty. However, nothing about Othoniel's work is simply decorative. Othoniel uses glass to transform sad and revolting images into inspirational contemporary pieces of work. The most successful glass piece, Tears, consists of more than 60 vases filled with water. Over 2,000 pieces of glass, necklaces, hearts, stars and hooks bob and dangle in the water.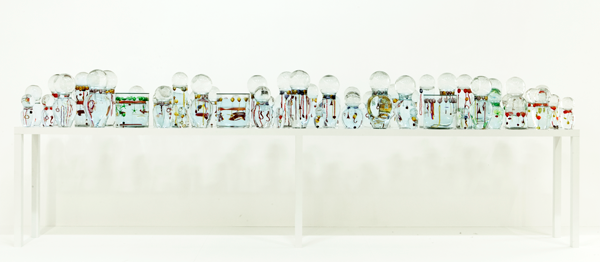 Tears by Jean-Michel Othoniel
I was unsure whether I should dance, cry or get naked while viewing My Way. The whimsical work speaks about all things human: the body, sex, death and intimacy. Even as sheets with glory holes hung from the walls, there was something incredibly innocent about the imagery and the message. The beautifully grotesque pieces of work shattered my thoughts of what contemporary art should be and left room for a whole new genre of glass, glitz, tits and tears.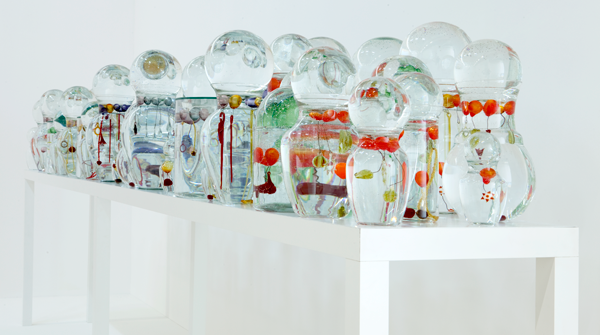 Tears by Jean-Michel Othoniel
The exhibition of My Way will be stateside at the Brooklyn Museum August 17 - December 2, 2012.