Paris Street Art
Musée de la Poste
by Erik Matiny
X
About Erik Martiny

Erik Martiny's reviews have appeared in London Magazine and The Times Literary Supplement. He lives in France.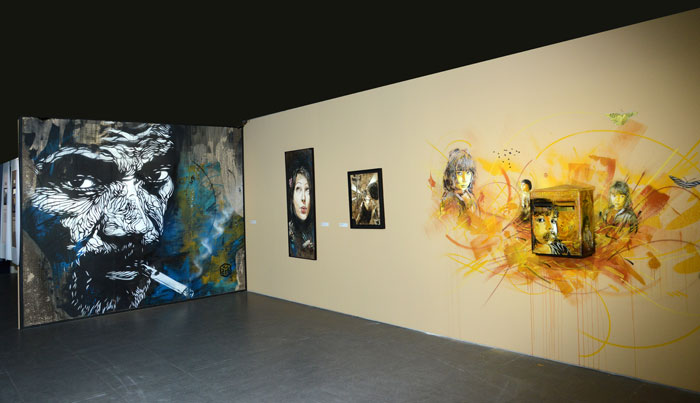 Philip Larkin once said that desolation was to him what daffodils were to Wordsworth. Interviewed for the current exhibition at the Musée de la Poste in Paris, French Street artist Reroalso remarked that he finds "the energy that derelict places radiate inspiring." This fascination with the beauty of urban wasteland has been vivifyingly enhanced by the Musée de la Poste for its current exhibition.
Rero's letter-centered projects bring us back to the origins of Street Art in the 1970s, when practitioners still called it "writing." His interventions feature large, black lettering always stenciled in Verdana script, a font he claims possesses no connotations. Borrowing from one of the techniques of experimental poetry, he then crosses these words out, thus attuning them to the spirit of their derelict habitats. These semi-deletions also render his statements simultaneously authoritative and disempowered; a fitting description of what all Street Art is at heart: a will to be recognized and remain in the margins at the same time.
A reminder of his own pseudonym, Rero, these 'error' messages, as he calls them, stand at the crossroads between two genres, creating a hybrid that one might call Conceptual Street Art. This message-based aesthetic seems occasionally little more than waggishly playful. "Image Not Available…" crossed out, is the title that fills the whole frame of a work, thus referencing the frustrating dead-ends encountered on the internet. Other word-works present at the entrance to this exhibition, such as the one titled "Page Not Found", are stenciled in massively dignified Verdana above an installation pile of trash art composed of elegantly-bound books, soiled newspapers, and bits of molding cardboard all thrown more or less haphazardly on shredded dollops of fiberglass wool. The enigmatic message here seems to point to notions of transience, loss, aporia, and bewilderment in the over-crowded labyrinth of the Information Age.
It seems fitting that Street Art should engage with Trash Art in a conceptual manner since it has often sought to act, paradoxically, as both an extension of inspirational decrepitude and as an antidote to the urban ugliness of concrete. Much Street Art is involved in pointing out and exalting what the French poet Francis Ponge called "the beauty of ugly things."
On the other side of the entrance, acting as a counterblast to the somewhat morbid weight of funk on theleft, stands a larger-than-man-sized spray canister guarding the entrance to the show like the one-eyed custodian of Urban Art. Behind it lies a host of different forms generated by the use of a spray can. Showcased artists include British Banksy and Portuguese Vhils, American artists Obey and Swoon, and a flock of French male and female second-generation wall appropriators such as Dran, Ludo, Atlas, Invader, C215, and Miss.Tic.
It is not known if Banksy was present in disguise on the opening night of the show. Although I was assured he did not intervene in the exhibition set-up, the canvas of his Smiley Flying Copper (2003) was prolonged onto the surface of the exhibition wall in streaks of running spray-paint. Alongside such iconic works as DJ Dangermouse – Laugh Now (2008) and Girl with Balloon (2003), a number of the prankster artist's symbol-tampering activities were highlighted on the wall. His Weapons of Mass Distraction (2001) is a set of stamps featuring the Queen wearing a gas mask. A nearby film informs the viewer of the story behind the artist's Banksy of England modification of £10 notes: His initial plan to throw a million pounds worth of these artistically-modified bills was foiled when he found that the few in circulation were being used by passersby to buy beers. The prospect of a ten-year jail sentence involved a little too much of the fear factor, we are told, even for the likes of Banksy.
Adrenaline has always played a major role in the creation of Street Art. Its later development into Stencil Art was prompted not only by the capacity of stencils to reproduce a signature image in many places but also by the fact that they get the work up very quickly. A significant number of the artists present on the opening night of the exhibition admitted to having been arrested. This is the first time a state-run National Museum in France has held a Street Art exhibition, and some of the artists expressed their emotion at being accepted by the Establishment in such an official manner. Some have a history of litigious entanglement with the public services that are now exhibiting their work. For the occasion, C215 was even given a postbox to aesthetically desecrate for the exhibition. It's one of the finest exhibits on view.
Contrary to what you might expect, the French postal operator has cultivated the value of tampering with its image, having a permanent collection of its own that is devoted to artists who have reworked, defaced, and ridden roughshod over its stamps, its letterboxes, and its postal bags and bicycles.
And yet one is inclined to ask what happens to an art form that depends largely on factors inevitably absent at such an institutional place as a State-owned museum. Part of what defines Street Art is its iconoclasm, its rebelliousness, its outsider status as an illegal artistic pursuit, its tense create-and-run execution, and its nature as a context-determined art. Le Musée de la Poste has done everything in its power to lessen the impact of removing this contextual art from its natural surroundings by letting its rectangular slabs of street dribble, splatter, or effervesce onto its walls and floors; even the ceiling of the museum is suitably similar to the oil-refinery finery of the Musée Pompidou. Time-nibbled stenciled wood, linoleum tapestries, stained pizza-box drawings, slag-heap plaques of acid-eaten metal, dumped doors turned into sticker art, recycled books, Rubik's Cube mosaics, hand-painted laminated plastic sheets, jackhammered walls: The vast variety of materials and techniques employed in current street art also ensures that it does not suffer too much of a sea change on its journey from gutter to gallery.
While the endlessly open space of the street might seem to be in opposition to the more limited enclosure of museums, it is worth pointing out that a number of spray can artists have used the street as an endless exhibition space. French-born artist JR views the streets as universal galleries in which he organizes rogue exhibitions, gluing gigantic photos onto walls. Woodblocking, the practice of hanging chipboard paintings in the street, has been on the rise in the last ten years. Many of these artists perceive their art as a way of lighting up the walls and the lives of the destitute.