Karen Jerzyk's unsettling Parallel World
at Art Block Gallery
by Sam Nickerson
May 21, 2015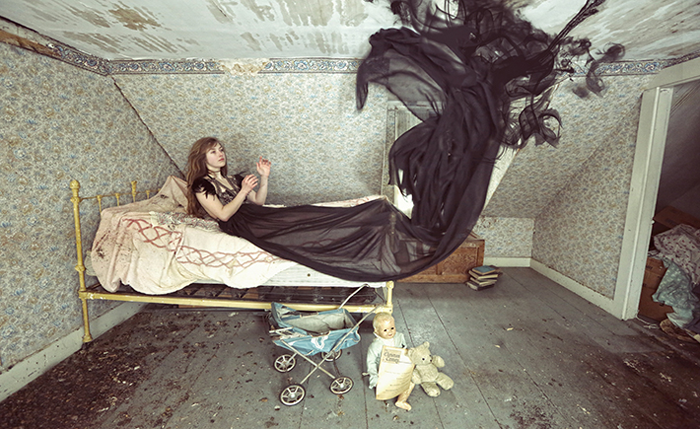 In place of words, dilapidated buildings and delicate, gaunt figures form the vocabulary of photographer Karen Jerzyk's Parellel World.
Jerzyk admits to struggling to express herself verbally, especially in relation to family tragedy, and instead relies on the nightmarish tableaux that make up the show to say what words cannot. The 22 works on view at Gallery @ Art Block come from several series in Jerzyk's archives: Nightmares and Dreamscapes, Self Portraits, Headshots, and Dudes in Pajamas, though there are no labels or titles indicating anything about the photographs.
This is for the viewer to determine.
"I want my photos to really tell a story. When people are looking at it, I want it to almost be read like a book," Jerzyk said. "I didn't want to have photos close together so someones eye was going from one to another."
While Jerzyk meticulously prepares the set – sometimes spending hours cleaning a dirty, abandoned room, while only shooting for 10 minutes – she leaves the story fairly ambiguous. In some cases, this is a springboard for the viewer's imagination – as with a photo of two figures in G-Men suits and luminescent goggles, one levitating in a chair, while stacked old televisions churn out static, like some mid-century dystopian fantasy.
In others, however, the viewer may simply be content with the initial shock of a portrait subject's pale skin and rolled back eyes before moving on to the next work. Where substance or content may be lacking, Jerzyk does shine when it comes to orchestrating her dream images.
Most are set in old industrial buildings or abandoned homes across places like New England, New Jersey, New York, and Detroit, and appear as though they haven't been visited in years. In some cases, they probably hadn't – Jerzyk said more than one time she had to sneak into the buildings with her models, leading to a trespassing arrest in August.
The willingness to go searching for a spot with only a model and camera often paid dividends for Jerzyk. She may spend an hour cleaning or rearranging the room, but in each Jerzyk finds mementos from bygone eras that allow her to create an off-kilter, pastiche version of those points in time. And the models, delicate, contorted, and often nude, stand out sharply from the background, whether indicating they don't belong in where they've been cast or that they are intended to be like a cheap scare in a pulp horror film – a shock to the senses, and nothing more.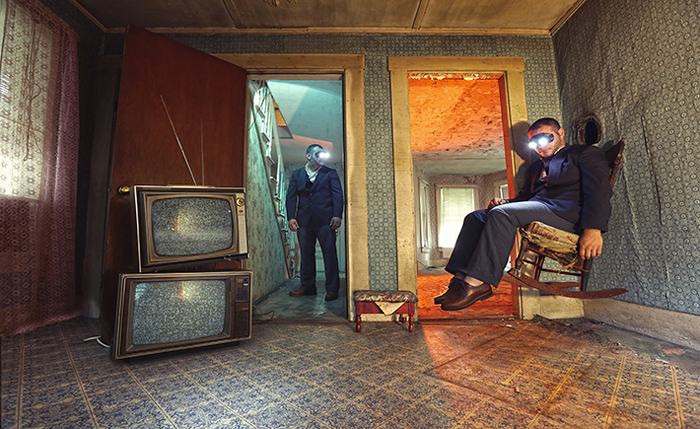 Jerzyk is also a master of light. She does not use flash in her work, and often relies on the natural light from windows to illuminate her arrangements. But, likely with the help of after-effects, this does not translate into dim, gloomy photographs. In fact, each of Jerzyk's photos, even a portrait set against a black background, is vivid and luminous. This adds perhaps the most haunting quality to Jerzyk's work: is this actually a dream? Or are we looking at reality?
"I'm trying to make something surreal out of a normal setting," Jerzyk said.
Some of her most surreal works are those that reach beyond the walls of a room. For instance, Jerzyk uses the villainous, yet delicate fashion of local designer Ashley Rose to cloak her models in grim authority, posing them outdoors next to shrines of burning animal carcasses or amid ice walls we assume were parted using some kind of magic.
And this leads to another possibly undeveloped theme in Jerzyk's tableaux: the power at play in Jerzyk's robed ice queens and her more vulnerable, even bound, nude figures. Is there a transformation between the two roles? Or are these different parts of the same sentiment?
While depth of content does not always appear as important to Jerzyk, or does not always come across as strongly, Parallel World seems to take a page from the book of Jeff Wall, whose staged photography emphasizes the power of the photographer beyond the ability to push a button.
Think "After 'Invisible Man' by Ralph Ellison, the Prologue" or "The Destroyed Room." In these photographs – and Jerzyk's, we are reminded that the eyes or capture itself is not always the skill of the photographer to be praised, but also the dedication to creating a moment to be witnessed and read.
Enjoy Parellel World like you would a haunted house. Allow yourself to be frightened by B-movie tricks and embrace the blatant fantasy of each scene without looking to craft words and context into each. Because of Jerzyk's personal inspirations ring true, there may not be any.