SELFISH
by Heather Zises
April 07, 2016
SELFISH
March 18 - April 9, 2016
Brilliant Champions Gallery
Opening Reception: March 18, 6-9pm | Closing Reception + Performance by Kendra Morris: April 8, 7pm
"With this show, I very much wanted to inspire introspection in other people. SELFISH is really about the existential significance of self-portraiture. This show is not meant to be a spectacle. At its core, it is more of an exercise piece where the viewer looks at the art on the walls and then starts to look within themselves." - Akeem Duncan, SELFISH Curator
Currently on view at Brilliant Champions is "SELFISH", a group show featuring a collection of self-portraits. Organized by guest curator Akeem Duncan of Quiet Lunch, the exhibition explores the existential significance of self-portraiture and the role it plays in an artist's practice. By focusing upon the intimate and inward process of the self-portrait, the exhibition extends far beyond the superficial realms of the selfie.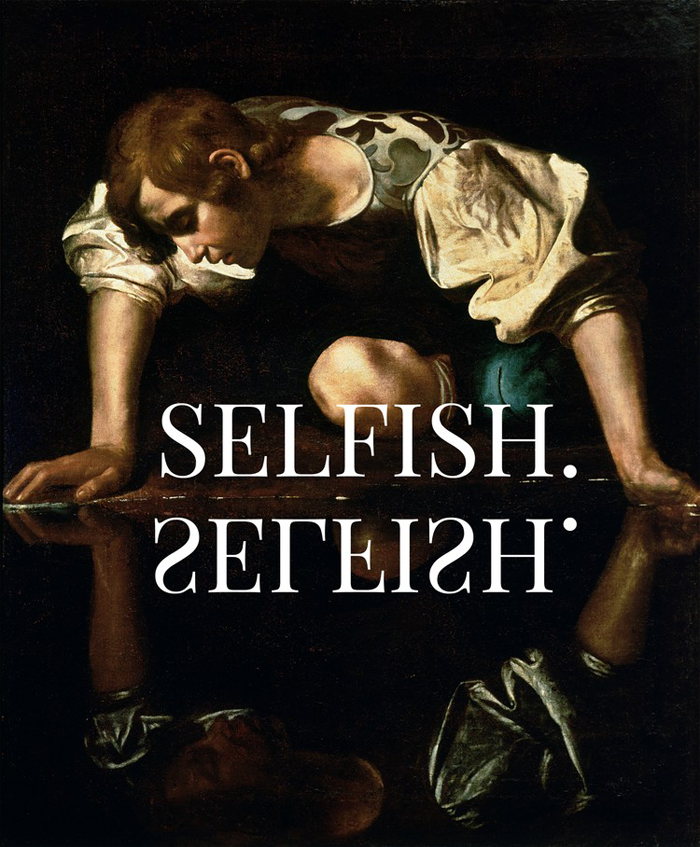 Time and again, the discipline of self portraiture is misunderstood. Perhaps even more so today with viral phase of the selfie. In this day and age with widespread access to camera phones, the act of taking a selfie (self-documentation for its own sake) has practically become an institutionalized rite of passage. Exploitative, narcissistic, and most importantly annoying, it is hard to find any upside to the selfie. Not only is this superficial trend contaminating our cultural ether, it is placing a damper on the creative examination of one's self. As such, many people mistakenly view self-portraiture as a vainglorious practice or one of creative masturbation. Quite simply, this is not true. The self-portrait is a vivid exemplar of imaginative introspection which leads to self-discovery, not self-worship.
Inspired by the casual charm of The Barnes Foundation, SELFISH is hung in a salon-style display to showcase works by ten international artists who have crafted their own expressive vernaculars. Rendered in a range of media and styles, the selection of these autobiographical pieces highlight the beauty of the individual experience and characterize the relationship between the micro and the macro.
Over half the works in SELFISH are oil paintings. The remaining portion of works in the show are photographs.
Positioned high up on the right wall is a large self-portrait by Canadian artist, jazz musician and Whitehot Magazine founder Noah Becker. Rendered in a creamy palette of fleshy pinks and warm neutrals, the foreground and background become interchangeable. Matching this shallow ambiguity is Becker's airy expression of deadpan cool, with eyes that cast down onto the other works in the show.
Palestinian American artist Daliah Ammar draws from a well of color, vulnerability and soft angst. Ammar's self-portrait "Rest" portrays a technically tight and cinematic composition of the artist's delicate features that have been gently bisected with a wedge of light.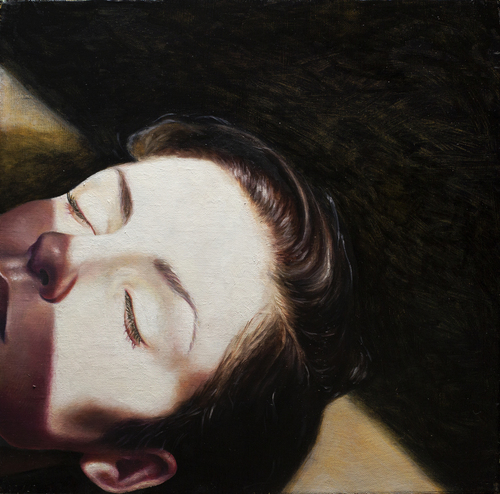 Daliah Ammar, Rest
Hailing from Queens, NY, artist and illustrator Theo Mighty creates a visual signature both on and off the canvas. Widely influenced by Hip Hop and heavy sampling, Mighty adroitly remixes renowned American painter and illustrator Norman Rockwell's "Triple Self-Portrait" with his own self-portrait "Triple Mighty". Quite possibly, this single work is the ultimate meta self-portrait that not only reflects the artist, but also the many faces of a new generation (note the MF Doom metal mask that tops Mighty's easel in lieu of the brass helmet that Rockwell used to crown his).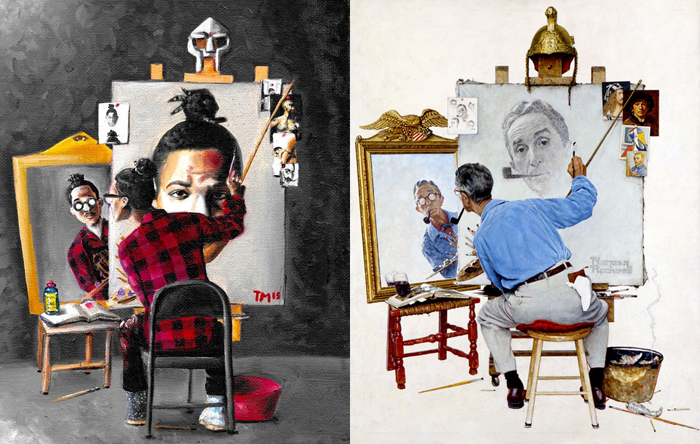 Theo Mighty, Triple-Mighty + Norman Rockwell, Triple Self-Portrait Montage
Brooklyn-based artist Jean-Pierre Roy takes the show in a super micro direction with his miniature—about the size of a baseball card—self-portraits that he dubs his "warm up" series. Each time Roy sets foot inside his studio, he paints a self-portrait to exercise his painting muscles. On view are wonderfully brushy and detailed self-portraits rendered from Mac Photobooth, photographs and memory. Interestingly, in the self-portraits Roy executes from memory, he always looks heavier than he is in reality, which brings into question issues of self-perception and self-esteem.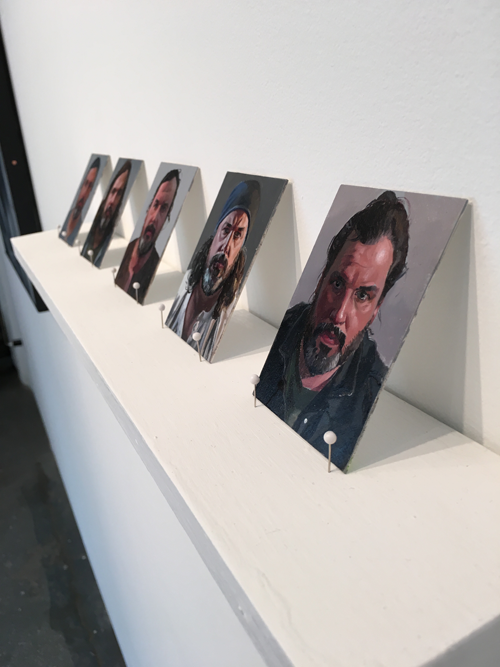 Jean-Pierre Roy, Self Portrait Series
Furthering these notions are a series of monochromatic self-portraits by New York artist, model and photographer Alannah Farrell. Titled "Reclaiming the Money Shot," Farrell's anonymous compositions (her face is cropped out) look to reclaim the female form, gender and sexuality, while addressing equally weighty topics like misogyny, cyberstalking, and the commonplace of porn culture.
Culled from her "Unconscious Education" series, Japanese-American performance artist Ayakamay's self-portrait examines elements of cultural shock that were borne out of her formative years first spent in America and then Japan. This staged, costumed world of screaming red and unappealing (and uncomfortably tight) gym uniforms pummel the viewer with harsh perspectives and paradigms from pre-millennial Japan.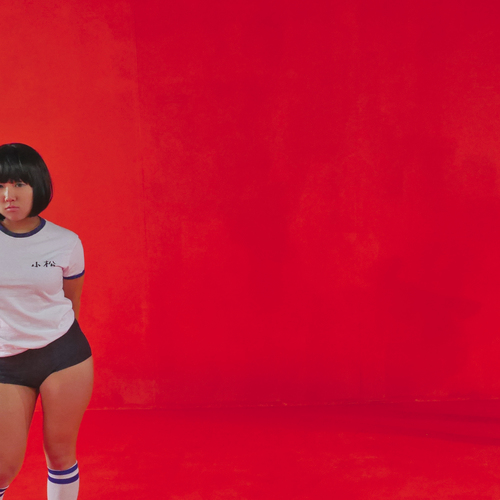 Ayakamay, Unconscious Education
Countering the austerity of Ayakamay's self-portrait is the cheeky and gauzy c-print by New York artist Megan Tatem from her "Being and Nothingness" series. Constantly examining the world in which Millennials live, Tatem creates an endearingly empty composition that flips between the personal—a candid moment of sitting on the toilet—to the staged—the glorification of youth culture and angst.
Perhaps the most dynamic composition of the show is the photocollage self-portrait by artist, model and actress Louise Donegan. Comprised of long limbs, elegant profiles and curious plumage, the whitewashed amalgam presents itself like a Martha Graham pose. Donegan marries an offbeat composition with surreal glamour, resulting in a grounded take on beauty standards.
Guyanese photographer Kwesi Abbensetts uses his vivid grasp on aesthetic to translate his love for beauty, form and introspection. Duncan selected three self-portraits from the artist's "Wondersome" series in order to create an emotional narrative. Similar to film stills, the crisp black and white portraits seem to develop into an emotion, or recede from it, depending upon the viewer's orientation of the works.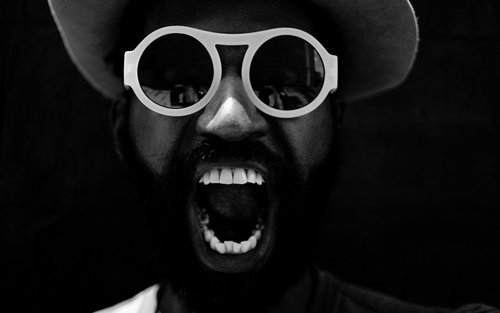 Kwesi Abbensetts, Wondersome 3
Aside from Alannah Farrell, the only other artist who obscures their face in this collection of self-portraits is Washington D.C. based artist Nate Lewis. With a background as a critical care registered nurse, Lewis draws inspiration from anatomy, physiology, and disease processes. His self-portrait, "Systemic Resistance 1", is an intricate photo sculpture which is created out of a single sheet of paper. Surgically precise, the piece stems from a point of service to others.
By bringing together striking works from each artist, SELFISH aims to highlight a collective presence, one that compliments, informs and influences each other both inside and out. This show is dedicated to the late illustrator Arlene Ellis and Duncan's late Uncle Cyril.