CEK - Concrete Functional Sculptures
May 07, 2015
CEK is not easily confined to one label. The Italian-born transplant to Toronto fuses many disciplines – design, architecture, art – into an equally unpredictable medium, poured concrete. His opening reception, April 23 at Goodfellas Gallery in Toronto, is the result of two years' experimentation in molded and cast concrete sculptural forms.
CEK's background in architecture is evident in his work. A graduate of the University of Udine, in northern Italy, CEK received the Incontr-Arti Prize in 2009 for the best Urban Installation, before settling in Toronto to pursue architecture professionally.
CEK is an astute observer of his adopted city. His Minimalist approach, with attention to surface and curve, integrates seamlessly with the silvery contours of Toronto's own skyline. There's much to appreciate in this first collection, and at attainable prices for each poured-to-order piece, it's easy to imagine CEK in every fashionable condo with a view.
"Vinyl Holder" is the crowd-pleaser. To the eye, this piece feels like it should be impossibly heavy, and yet, its precariously tilted cubes create a sense of weightlessness. Dichotomy is CEK's hallmark: energetically masculine materials performing feats of feminine gracefulness. "Lamp #0.2" is the finest embodiment of these traits, comprised of a concrete base linked with a polished steel reading light in a pleasing 'S' curve. The glossy surface of the concrete looks luxurious here.
Other functional pieces were less practical, such as "Clock #0.1" – one party foul would spell ruin for those clock hands! In some cases, the finishing touches were lacking, such as splatter on one set of clock hands, a smudged steel surface, a bit of crumbling at a sharp corner here or there. All details that will undoubtedly be improved as CEK continues to expand on these prototype pieces.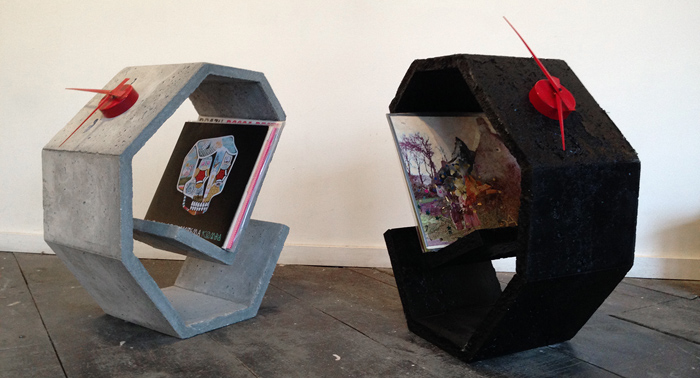 "Eureka Concrete" is clearly an artist favorite and the show's centerpiece. Its androgynous, contemplative face with closed eyes invites the viewer to linger and examine the pores created during the casting process. This evidence of the artist's process helps to redeem a piece which, from a distance, looks too obvious (lightbulb, head lost in thought?).
The concrete takes on a tender quality in more enigmatic pieces, like "Zero Luminance Discomfort X2," in which two hands impaled on a steel rebar offer upturned concrete lightbulbs, as if in supplication.
CEK has everything one could wish for in a young designer – a unique medium, a clear vision, an artist's language, and an undeniably covetable product.