The Louvre Relocates to Africa
Kehinde Wiley at the Galerie Daniel Templon, Paris
The World Stage: France 1880-1960
(October 27 - December 22, 2012)
by Erik Matiny
X
About Erik Martiny

Erik Martiny's reviews have appeared in London Magazine and The Times Literary Supplement. He lives in France.
"Like Norman Rockwell's paintings they look better in reproduction than in reality." This is a line taken from the New York Times review of Kehinde Wiley but it's hard to see how such a statement can be true of any work of art, and Wiley's is no exception - far from it. Even Gustav Klimt's tiny painting "Die Musik" in Munich's Neue Pinakothek is still far more impressive seen in its original setting despite the fact that it's considerably smaller than its reproductions. Prints don't include the three-dimensional sculptural artistry of frames or the atmospheric locus of a museum or gallery space, not to mention the scale of a painting, the alluring perfume of fresh oils wafting you into their world and the physical presence of a live canvas. Kehinde Wiley's paintings certainly need to be experienced first hand. As he puts it with regard to the Louvre, when you see the size of the paintings you realize that scale matters. Like the masterpieces he pays homage to, his artwork seeks to dominate the viewer.
It was common in fifteenth-century Italian art criticism to say that such Northern masters as Rogier Van der Weyden and Jan Van Eyck had surpassed reality itself. The statuesque presence of the models in Wiley's photorealist paintings is such that they seem more real in a strangely magical sense than the viewers at the exhibition.
This hypnotically hyperreal presence is also due to Wiley's surprising and masterful use of what lies behind his sitters. You might even say that his backgrounds are landmarks in the history of the background qualifier: the points of reference being medieval use of goldleaf backdrops, followed by the Northern Renaissance move towards naturalistic settings. In modern art, you have Gustav Klimt and Kehinde Wiley.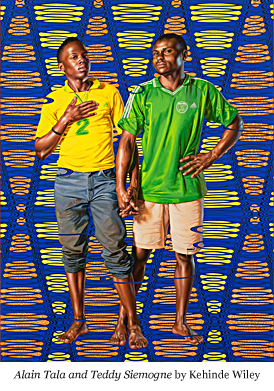 Although it is easy to see kinship between some of Wiley's backgrounds and the ornamental geometrical and floral setting behind the Madonna in van Eyck's "Van der Paele Alterpiece" in Bruges' Groeningemuseum, on the one hand, and Op Art's electrifying visual effects on the other, Wiley's backdrops acquire personal and even movingly original resonance at times. The more abstract margins of his canvases can evoke the organic imagery of cellular structures such as molecular helixes in "Alain Tala and Teddy Siemogne". Others remind one of pollinating seeds, fecundated ova or spermal abstractions: the recent example of "Barthélémy Toguo" at the Templon art gallery is a discreet though omnipresent example of that.
Wiley has acknowledged that molecular biology was a seminal inspiration in his early work after leaving the Yale School of Art: in a conference for the Smithsonian National Museum of African art, he called these biometrical backgrounds "individual sperm cells engaged in a synchronized swimming act." Such attention to the microscopically small makes artistic sense within a photorealist mode of painting as both an extreme extension of realism and its abstract opposite.
For the show at the Daniel Templon Gallery, Wiley used folkloric fabrics inspired by the French-speaking African countries he visited in search of inspiration. The very point of his ongoing World Stage series is to obtain a deeply "site-specific response" to the locations he visits. This involved street casting in such places as Gabon, which led to a few days' imprisonment for Wiley and his assistants as it was believed by the local authorities that they were attempting to rig a local election.
Wiley's art gives itself up to the local spirit in more ways than one. When he has hired his local models, he then asks them to leaf through his art history books so they can find a painting in which they would like to be cast. This offers a new spin on traditional artists who ask their models to move at random so that they can then discover a suitable pose. It also makes one consider how far art has come from the time when powerful patrons commissioned specific works with very clearly-outlined instructions for the artist. You might say the two come together in Wiley's commissioned painting of Michael Jackson (the last official portrait of the singer) in 2009.
Wiley has said that he likes to set up a strong fight for domination between background and foreground, a tension which mirrors the challenge his work offers to history in both its political and artistic dimensions for the ultimate aim of Wiley's enterprise is to reinstate the marginal and dethrone the centre. In fact, you might say that the touchstone to the whole World Stage project is the Templon Gallery exhibition in Paris. The artist paid a private visit to the Louvre, which he calls the "seat of power" in Art, and concurrently visited the African sites of France's former colonies. The exhibition is thus about debunking political power and artistic hegemony simultaneously.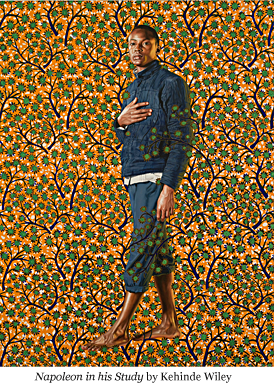 This brings us to the heart of why Wiley's art is so bemusing. While the paintings are remarkably similar in their formal properties, adopting all the time-honored conventions of heroic portraiture (the frontal or three-quarter turn, the self-aggrandizing body posture, the attributes of power, and the richly enhancing surroundings), their tone is often strikingly different. A painting such as "Napoleon in his Study" has a profoundly beautifying and dignifying effect making the original portrait by David almost soulless by comparison: the leafy surroundings and the African gesture of the model's hand held to the heart feel much more authentic and poetic than Napoleon's, stiffly inserted in the glove-like clothes of his power.
By contrast, other paintings such as "John Churchill, Duke of Marlborough" can go down as merely parodic of previous sovereigns. The added risk being that a figure posing as the Duke of Marlborough holding the attribute of a broomstick is going to seem a tiny bit silly himself, but Wiley is willing to allow for this kind of backfiring. While one of his main avowed aims is to give African-American kids a chance to see themselves depicted heroically in museums, he is also aware of the faintly ridiculous quality of peacocking.
Another provocative risk arises when Wiley creates an even greater mismatch between titles and the subjects they depict. Ennobling the poor or the ordinary man by giving him the poses and pomp of the rich is difficult enough to pull off. Crossing the gender line is even harder to successfully accomplish. It's hard to keep a straight face when a painting called "The Three Graces" shows three very serious-looking young men wearing jeans and holding apples at the tips of their fingers.
Wiley makes no bones about being gay and bending the rules of representation. His celebrations of black experience do not preclude camp posturing and the self-derisive laughter that comes with it. His color scale is deliberately garish and gaudy, sometimes to the point of "bad" taste. Wiley's "Saint-Jérôme" for instance is both soul-searchingly deep and teeth-grindingly pink. The somewhat blurred face represented on the T-shirt of the sitter offers a delicate version of the usual vanitas death's head, as does the empty white cup, but the pink pants and wavy kitsch-pink margins deliberately undercut the seriousness and penitent darkness of traditional renderings of the saint.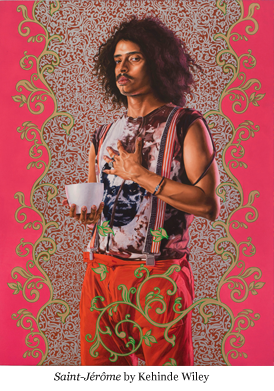 It might initially seem like a contradiction when Wiley argues that he uses "the misogynistic world of powerful men to get past it". There are no women models portrayed in the Paris show and his other exhibitions routinely omit women altogether and put male models in where females ones at least had some visibility. To a feminist viewer, this might look like another version of the oppressor's language, but although it might appear as if men were muscling in yet again on female space, Wiley brings out the feminine in every man. The title of the French film, "L'homme est une femme comme les autres" translates "Man is a Woman" and Wiley was pleasantly surprised how non-gay men in French Africa had no taboos about touching and holding hands, allowing him to make two local youths pose for his "Portrait of a Couple".
In the end, there are many qualifiers that can and have been hurled at Wiley's art. It has been called rococo, hyperdecorative, tacky, mechanical, misogynistic, masculinist, market-friendly. Although his work can be seen as somewhat formulaic in its insistent repetitiveness over the last decade, there is a tremendous amount of variation within the confines of the strict limits he has given himself. Even the conventions of portraiture have been given tighter boundaries: only men of African origin enmeshed in an overdetermined repetitive pattern devoid of recognizable objects. And yet, he manages to triumphantly transcend these limitations. There is never any sense that this production is dehumanized or industrial in a Warholian sense.
My only regret would be if Wiley continued with the same set of self-imposed limitations until the end of his career. Although such a static quiescent approach would be perfectly permissible, especially in contemporary art, it seems a pity to confine oneself to a winning formula for too long. Wiley's less well known (and perhaps less technically brilliant) work at the Yale School of Art as a student explored other captivating avenues of expression.
He has often observed that his peacocking pageantries are fundamentally about the refusal to go away quietly. I would be very curious to see what this highly gifted artist could do in the future to rage against the dying of the light.