Justin Kimball at Carroll and Sons
by Sam Nickerson
August 1st, 2014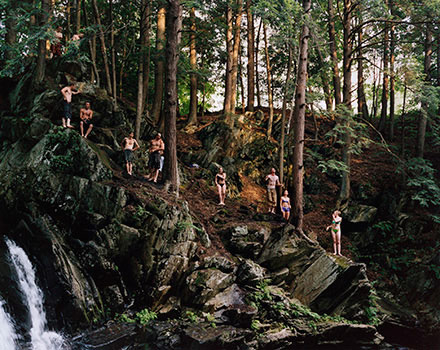 When photographer Justin Kimball was a child, his family did what countless other American families did during the twentieth century; they hopped into a van and drove around the country, joining the crowds at National parks and beaches, watering holes and other sites of leisure and recreation designated to the general public.
Over the years, Kimball revisited many of these locations for his collection Where We Find Ourselves, but each time, the experience was much different than his memories. Kimball's lens captured environments less halcyon and people less care-free, but at the same time, still filled with enough points of view to be prototypically American.
According to Kimball, he had stumbled across the "imperfect American relationship with the landscape."
"I worked hard to present something ubiquitous, a broader range of who we are in relation to each other and to place," Kimball said to me during a conversation at the show's opening at Carroll and Sons in Boston's South End.
The show's thirteen photographs – all taken between 1996 and 2003 and printed to 30" x 40" using traditional chemicals – are a small sampling of a larger body of work, collected in a book of the same name. A timely exhibition, ten of the thirteen photographs were taken in New England during what appears to be summertime, and nearly all of the prints feature water in some way, whether it is a river bank, public beach, or rope swing.
Over the course of American history, settlers, migrants, and citizens have done just what Kimball's family did; they left their homes to roam the countryside, often documenting the journey. For some, it was a matter of manifest destiny, for others, the landscape provided an opportunity for healing or religious experience, and for so many, it was a chance to escape – which is perhaps why the theme of water as a source of cleansing and purity features so prominently in the show and throughout the tradition of American landscape art.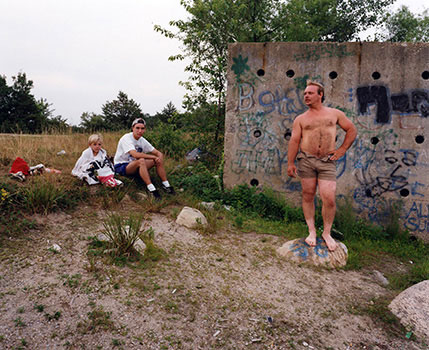 Yet, the bodies of water Kimball and his subjects sought out were not necessarily untouched, idyllic streams. "Greenfield River, MA" (2002) contains a class statement. In the photograph, children stand on the cement siding of what appears to be a man-made redirection of the river. Only one girl faces the camera as she leans along the edge of the brownish water. She may not be able to afford a true escape from daily life, as it is clearly inserted in what could be one of the few sites of leisure she has access to, and her expression is not one of relaxation or investment in the scene around her.
Kimball, who said he spent a lot of time studying paintings ahead of building this portfolio, fits into this tradition in part because he looked to it for inspiration. His inclusion of individuals into the environment recalls the Hudson River school of landscape painting, where the encroachment of people, seen through domesticated animals, hay bales, and human figures among the wild, is both foreboding and a sign of peaceful coexistence. Today, the American landscape is almost never untouched by humankind, and an understanding of place is driven by a discussion of its inhabitants.
Kimball also said he looked to the work of Thomas Eakins, who painted the scantily-clad figures of those relaxing in public greens and rivers around Philadelphia during the nineteenth century. It's not far-fetched to see in the bathing-suited individuals in Kimball's "Deep Hole , NH" (2002) and "Warren Dunes, MI" (2003) the modern day equivalents of Eakins' nude young men depicted in some of his well-known works, such as "The Swimming Hole" or "Arcadia".
For me, the most compelling work is "Mill River, MA" (2003). Rapids churn against the boulders on the riverbank, their combined slick gray launching the green of the background vegetation, as the three people who perch there avoid eye contact and fold their arms in resignation and vulnerability.
Is this a family? What can they not let go of from their daily lives that bogs down this otherwise tranquil scene? What do they seek from the river as they dip their legs in and let it wash over them?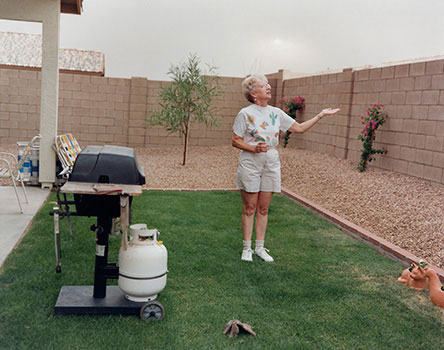 Kimball didn't stage any of his subjects, instead choosing an observational, almost voyeuristic stance, drawing out the drama of his subjects' psychological states without dictating them.
In doing so, Kimball found that these common, everyday people – regardless of their age, sex, race, or history – only find other people or their own daily worries in these supposedly wild and natural landscapes.
The show's power comes from its collective nature. A narrative of attempts to heal and to celebrate in the face of daily life unfolds from the walls and certainly from the pages of the book, as each photograph contributes towards an understanding of the role physical geography plays in the American identity.
But what happens to the narrative when one work is separated from the collection? The grand, meta-tale of American struggle and reprieve might seem lost when limited to just one or several photographs.
By themselves, each print could easily resemble a snapshot from another family's vacation, mixed in amongst your own. At the same time, Kimball still exacts moments of tremendous emotion from his subjects, which, frozen in frame, are incredibly powerful in their own right, even without any context.
Either way, Kimball succeeds in reminding us of where we, as contemporary Americans, often find ourselves: caught somewhere between the present moment and all of what troubles us on a cultural or personal level, looking toward the vast landscape for escape and therapy, but unable to completely separate that landscape from the society we have built around it.