Airan Kang, The Luminous Poem at Bryce Wolkowitz Gallery
by Heather Zises
July 31, 2015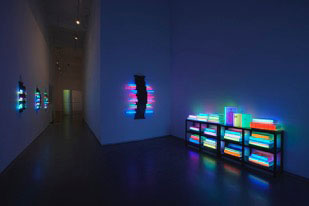 On view at Bryce Wolkowitz Gallery is South Korean artist Airan Kang's most recent body of work, The Luminous Poem. Known for her metaphysical approach to text, Kang creates electronically luminescent sculptures cast from transparent synthetic resin and LED paintings in the form of books and scrolls. Encased in neon, Kang's illuminated texts emit sumptuous colors that effervesce, while exploring the relationship between book and e-reader in today's digital landscape.
In this new series, "Kang opens up the idea of the book from a concrete, self-contained object, into a virtual space for the imagination," notes Jean Dykstra in her exhibition catalogue essay. Quite fittingly, upon entering the gallery space, one feels as if they have traversed into a Jules Verne-inspired environment with glowing objects that seem to float in the dark. Upon closer inspection, striated neon blocks reveal themselves as ancient Asian texts, while glowing LED scrolls that protrude from Chinese wooden wall reliefs take the form of polychromatic arthropods. By replacing the physical and figurative aspects of books with light, Kang transforms the conventional into the transcendental.
Formally, Kang creates her book sculptures by casting them in transparent synthetic resin. The artist then inserts LED paintings of book covers inside. By projecting light from within these sculptures, Kang strips conventional associations with the object as an actual book by challenging the viewer to contemplate its subject matter based upon its title. For some of her books—like the old Asian texts in the front gallery space—Kang first wraps books in fabric and then casts them in transparent synthetic resin. (This process looks to her earlier series of fabric-wrapped books cast in aluminum, which is an oblique reference to the Korean tradition of Bojagi.) The end result creates a fantastic "Back to the Future" vibe for the viewer as they try to place in time ancient texts replete with traditional stitched bookbinding that yield a garish glow.
Continuing to walk along an illuminated corridor, viewers can enter an alcove gallery set up like a minimalist library in dayglo colors. An assembly line of digitally illuminated art books wrap around a single shelf, showcasing a psychedelic array of spines and covers. Separate from the group and mounted to the wall is a transparent synthetic resin version of a Warhol book on portraits with Marilyn Monroe on the cover. Like a surreal shrine, Kang's sculpture encapsulates a zeitgeist that pulsates deeply within our cultural retina.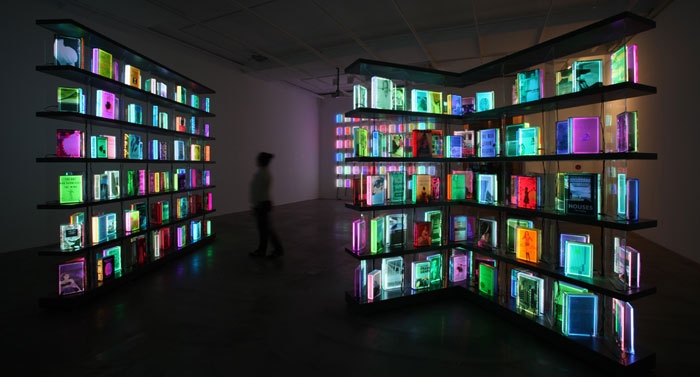 The rear gallery displays the title piece of the show, which is central to the exhibition. The immersive installation situates book and text as an illuminated interactive experience. Accompanied by an ethereal sound component, excerpts of Romantic poetry from Western literature are placed upon a computerized plinth and then projected across the surface of a mirrored, upright book so big you can literally walk inside. Words by Ralph Waldo Emerson, Edgar Allen Poe and Lord Byron crescendo overhead and then gently cascade to the floor into a slow dissolve. Not unlike the tenets that uphold the Romantic sublime—which embrace a sense of awe and wonder—experiencing The Luminous Poem evokes similar feelings for both the artist and viewer.
For nearly two decades, the book has been central to Kang's practice. So much so that The Luminous Poem is the most recent iteration in a series of exhibitions with bibliophilic titles such as, The Only Book, Hello Gutenberg, Light Reading, The Bookshelf Enlightened, and Luminous Words. Kang's particular focus upon books ranges from the knowledge they contain to their cultural significance to their physical form. And although Kang has remained devoted to the book as her subject matter for many years, The Luminous Poem feels particularly timely, given the increasing anxiety in contemporary society that surrounds the place of literature and publishing and the current form of books as e-readers. A heady mix of materiality and nostalgia, the exhibition memorializes the past yet honors the future. Ultimately it is up to the viewer to find comfort in a place that hovers between digital and terrestrial space.
photos by Bryce Wolkowitz