Alexis Dahan,
ALARM! At Two Rams
FEBRUARY 5- 22, 2015
By Heather Zises
March 05, 2015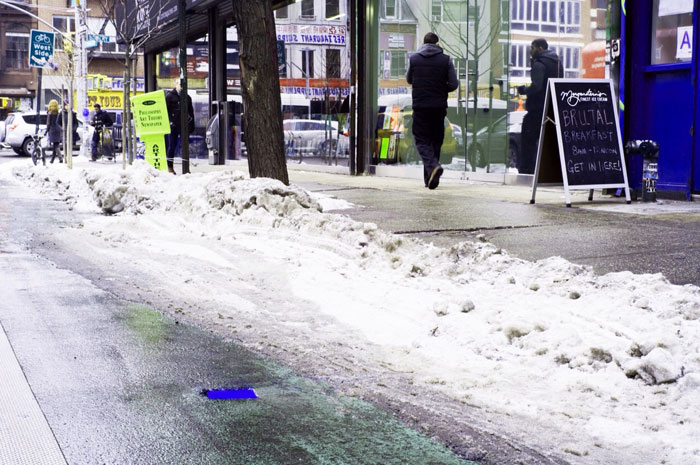 Street shot. Alexis Dahan, Newsstand and Blue Puddle, 2015
Currently on view at Two Rams is a conceptual playground of art and space called Alarm! Conceived of by Alexis Dahan, the immersive exhibition continues the Parisian artist's investigation of city streets as a source for visual experimentations, a location for public art interventions and a place to disseminate philosophical content.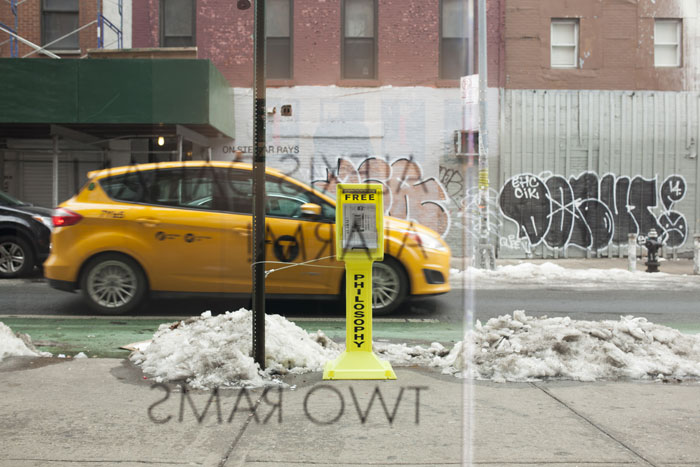 Alexis Dahan, Newsstand, 2015
Composed of nine different site-specific installations, the exhibition explores themes of temporality and obsolescence while simultaneously comingling a myriad of inner and outer realms that push and pull against one another, resulting in a provocative blur of public and private spaces.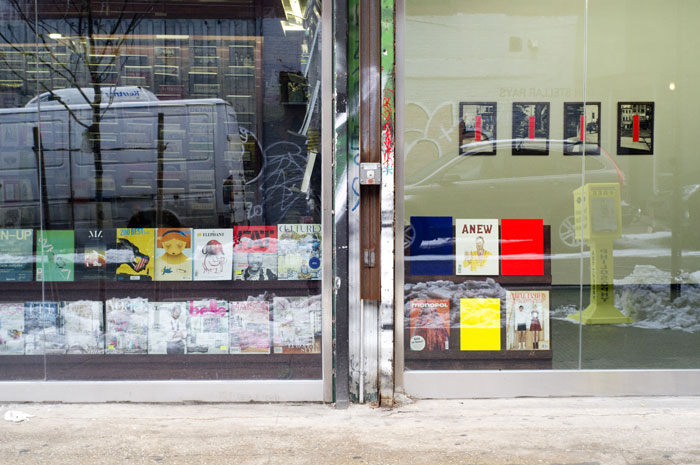 Street shot. Alexis Dahan, Magazine Rack (Alarm Amann and Newsstand), 2015
Outside the gallery, three public interventions take place directly on the street: an old fire alarm box on the corner of Rivington and Bowery that has been repainted with fluorescent red pigment; a square shaped pothole that has been filled with ultramarine water to create Blue Puddle; and a freestanding, fabricated yellow newsstand that dispenses a philosophy and art theory newspaper entitled Alarm! Perhaps a wink to New York's past, these multiple parts and color combinations recall aspects of Barnett Newman's four part series, Who's Afraid of Red, Yellow and Blue? with a twist of De Stijl.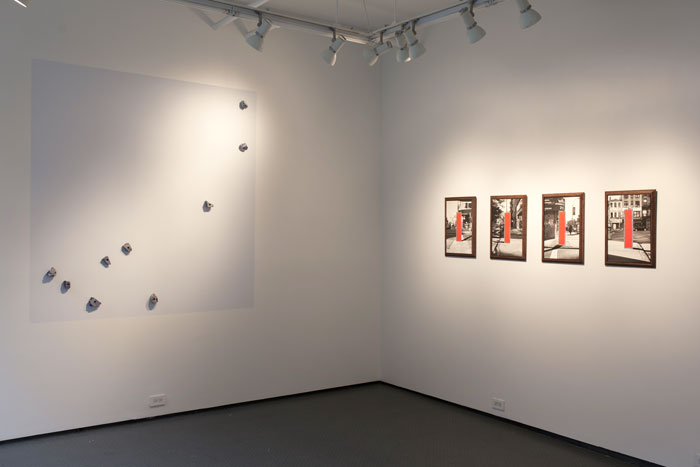 Instalation shot. Alexis Dahan, Alarm Amann and Constellation of Street Corners II, 2015
Inside the gallery are works that function as the hub of Dahan's exhibition. Hanging brightly on the north wall is Alarm Amann (north, south, east, west), four photographs of the refurbished fire alarm box that have been hand colored with the same fluorescent pigment, reconfigured as rectangular obelisks, and framed with the same molding that ornaments the alarm. Installed on the west wall are an elegant arrangement of raw cut lapis lazuli stones entitled Constellation of Street Corners II, which is a remix of a piece Dahan previously exhibited on the same gallery wall that inaugurated his Blue Puddle interventions in July 2014. On the opposite wall, Dahan pays homage to his cultural roots by including a Lettrist collage by French artist Gil Wolman, L'EPC/Le Quotidien Dechire (1975) that nods to a seminal text, A Theory of Detournement, 1956, whose tenets are the underpinnings for this exhibition.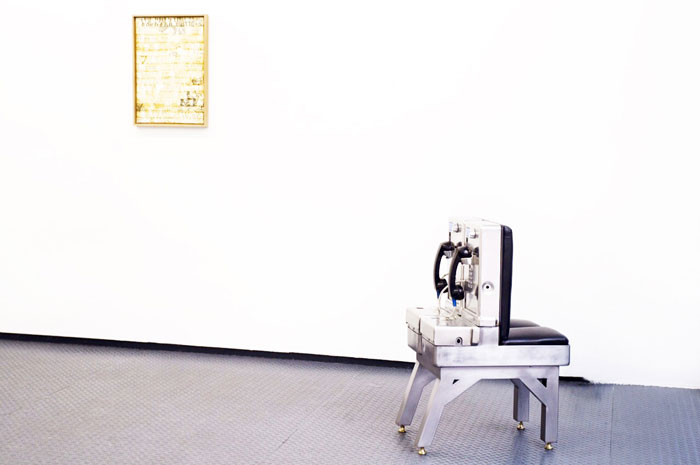 Installation Shot. Alexis Dahan, Payphone Chair,2015
Alarm! offers three works that that bridge together the public and private domains by occupying the curious realm of the "in-between". While technically placed inside the gallery, Magazine Rack is a custom newsstand that is only visible from outside, and acts as a continuation of the store next door's inventory. Payphone Chair is a whimsical, readymade-esque sculpture constructed out of two NYC decommissioned payphones that offers "a room with a view" to anyone who sits behind the one-way mirror installed on the gallery storefront, one can privately observe street activity without being seen. While playing the role of a voyeur, viewers can look across the street at Breuning Politics, a series of social commentary drawings Dahan made in collaboration with artist Olaf Breuning.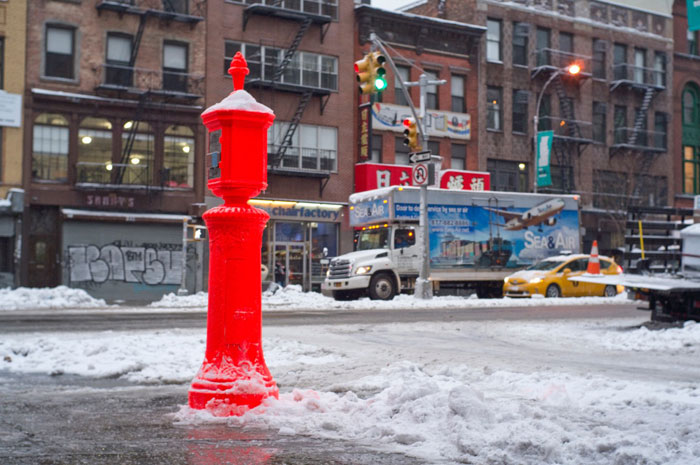 Alexis Dahan, Alarm Amann,2015
A dash Duchampian in approach, a bit Cattelan with his craft, and a touch Banksy with his use of NYC streets, Dahan has spun a intriguing web of dialogue and discourse between potholes, phone booths, fire alarms and murals. Be sure to visit this symphony of sights and signs before it comes down on February 22nd!