Kara Walker, A Subtlety
Domino Sugar Factory, Williamsburg, Summer 2014
August 27, 2014
by Heather Zises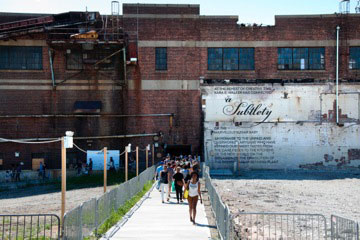 Kara Walker is a contemporary African American artist whose work is fraught and intersected with issues of race, gender, identity, and sexual politics. She is best known for her panoramic friezes of black, cut-paper silhouettes set against white grounds that pungently address the history of slavery and racism. Through the appropriation of 19th century visual vocabulary, Walker creates provocative antebellum narratives in the form of drawing, painting, text-based work, video, film, performance, and cyclorama. The New York-based artist has been a professor of Visual Arts in the MFA program at Columbia University since 2002, and is the second youngest person to ever receive the MacArthur Foundation's "Genius Grant."
On view at the Domino Sugar Refinery in the Williamsburg section of Brooklyn is a large-scale public project by art provocateur Kara Walker. Commissioned by Creative Time, the expansive installation—which features sculptures made out of comestible materials—is a raw survey about sugar refinery, trade, slavery, and the pitfalls of overconsumption. Even though the factory has been closed for a decade, its decrepit walls and rafters remain thickly coated with molasses and the pungent aroma of burning sugar still hangs in the air.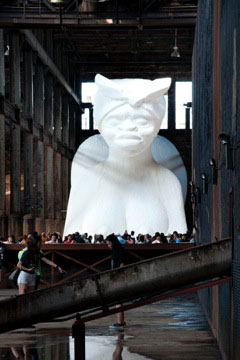 Docked amidst the shadows of towering girders in the refinery is a ghostly white vessel. Fabricated out of 160,000 pounds of refined sugar and carved polystyrene, the confectionary colossus resembles a reconfigured sphinx of high strangeness. Entitled A Subtlety, aka Marvelous Sugar Baby, an Homage to the unpaid and overworked Artisans who have refined our Sweet tastes from the cane fields to the Kitchens of the New World, the name makes reference to intricate sugar sculptures "soletelties" (or "subtleties") that bedizened European banquet tables in the middle ages. At a cinematic scale of 40 feet tall and 75 feet long, Walker's monument is hardly inconspicuous. Fashioned with a cartoonish head of a "Mammy" and the body of a lusty, over-sexualized being, the sculpture is an unnerving hybrid of stereotypes for black women.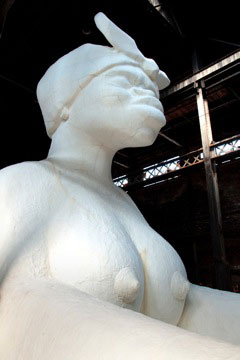 While many people find aspects of Walker's work raw and unsettling, it is exactly within these areas of discomfort that Walker extracts deep-rooted issues to the surface. That A Subtlety is a blindingly white monument is no coincidence. Quite intentionally, the work functions as a springboard for weighty topics like sexual, physical, and racial exploitation. Walker has publically shared that her work is an attempt to gain a firmer grasp on history, particularly because "the meaty, unresolved, mucky bloodlust of talking about race is where I always feel like the conversation is inconclusive". So how is A Subtlety to be interpreted? Is she a Guardian? A monument? Or perhaps a destructive female terror, like the Hindu goddess Kali? Interestingly, the etymology of the name "Kali" primarily means "time" but also means "black" in honor of being the first creation before light itself. Not unlike Walker's glimmering beast, Kali is often presented as dark and violent, but is also conceived as a benevolent mother goddess.
The subtitle of the piece, Marvelous Sugar Baby, an Homage to the unpaid and overworked Artisans who have refined our Sweet tastes from the cane fields to the Kitchens of the New World points to the processional of life-scale sculptures of black boys staged throughout the factory. Molded out of resin and coated with molasses, the translucent amber figures embody a brûlé ed past of pain and profit. Wielding woven baskets, the young figurines remind viewers of how sugarcane field labor and slavery "changed our diets" by the 19th century—an observation made by Walker in her exhibition notebook—as the demand for sugar from the New World gained momentum.
Quite harrowingly, most of the molasses sculptures on view were decaying –undoubtedly a reference to countless laborers who perished at the expense of refining sugar. Where some figures were caked with golden scabs of streusel, others had collected murky pools of molasses in their baskets and were secreting syrupy puddles onto the factory floor. As thousands of visitors circumnavigated the installation, shoe soles stuck to the ground, reminding them that parts of history are still roiling with unrest.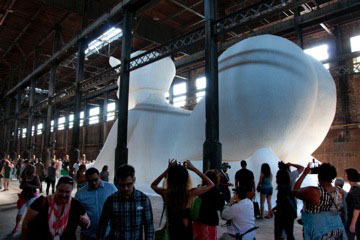 Although Walker's sphinx and her attendants are mute, they have activated a tangle of clamor. For three months, the general public has participated like a Greek chorus as part of Walker's exhibition. Not since Christo and Jean Claude's The Gates project in Central Park have crowds queued so thick to ogle a series of monuments (the waiting line to gain entrance to the sugar refinery stretched over a mile long). Once inside, it was nearly impossible to separate the crowd's interactions with the work from the artwork itself. Sadly, the fact that visitors were shamelessly posing in front of the monument like tourists and making lewd gestures toward anatomical parts exposes how unsophisticated most of our society remains. However, this behavior also reveals Walker's deep understanding of social mores. Her absurdist sensibility hones right in on our culture's obsession with self-importance through "selfies," especially when confronted with controversial or sexually charged backdrops. Furthermore, Creative Time encouraged viewers to post pictures of the exhibition on Instagram, which just perpetuated more mania within our "spectacle culture." That said, knowing that art allows the greatest freedom of thought to the viewer, it would seem hypocritical to relinquish that privilege. Besides, who is anyone to define one unilateral form of artistic expression? Perhaps that is a riddle only a sphinx can answer.