Nature's Confession by J.L. Morin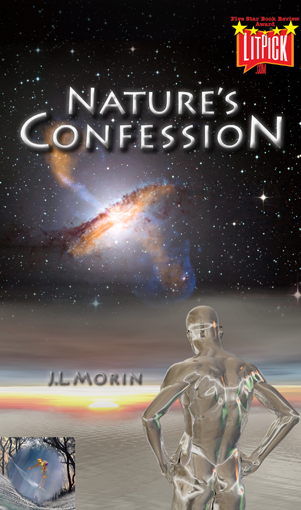 Nature's Confession
Science Fiction Novel by J.L. Morin
Harvard Square Editions, 2015
$19.95
ISBN 978-0-9895960-7-7
by
Mary Woodbury
X
About Mary Woodbury
Mary Woodbury (curator of Eco-fiction.com) writes under pen name Clara Hume. Her climate change change novel, Back to the Garden, was published in the autumn of 2013 and later was discussed at Dissent Magazine as part of an emerging genre of similar novels. Mary graduated Purdue University with degrees in English literature and cultural anthropology. During college, her senior archeology team received honors and an invitation to join the Indiana Archeology Society for the summer. Anthropology is her first love, but she went on to establish an editorial career, runningJack Magazine for a decade with co-founder Michael Rothenberg. The magazine is currently archived at Stanford University's LOCKSS program. Since moving to British Columbia, Canada in 2008. Mary has been involved with stewardship of the Fraser River and Burrard Inlet as well as has been a researcher/writer for BCRainforest.com, where she hosts a series about the Great Bear Rainforest. She is currently working on a collaborative book and short video about the rainforest. Mary is the owner of Moon Willow Press, an independent book publisher that celebrates the written word while helping to sustain forests. Mary enjoys reading, collecting old books, hiking, and running.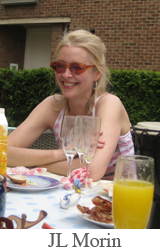 J.L. Morin's Nature's Confession is a classic science fiction novel, pertinent to modern times. This epic spacetime romp has two teens—a mixed-race, fourteen-year-old, simply named "Boy", and his half-sister Kenza, along with their parents—trying to save planet Earth from oil corporations, pollution, and mindless acts against Nature.
Set in the near future, Nature's Confession paints a harrowing picture of where we're headed, but JL Morin, who graduated from Cass Technical High School in Detroit, goes above the average fictional dystopian tale of doom and spins a gorgeous tale that is surprisingly fresh in perspective. Morin splashes her epic sci-fi thriller with interesting satire, fresh neologisms, comical aphorisms, and vibrant illustrations of Nature, where it does exist (in space and on another planet). Morin weaves physics, linguistics, mythology, and spirituality into the tale. Her ordinary characters become extra-ordinary against the hive-mind, bricks-in-the-wall society members that live in fear under corporate and militant law—headed by an obese porker reminiscent of the largest of Wall-E characters.
Perhaps Nature's Confession is so vigorous and uplifting because, unlike many books that remind us of our ruinous destiny, this novel's characters create solutions and act on them. From start to end, you'll find yourself on a thrilling, page-turning adventure that may spark some nostalgia of older classic sci-fi, the kind that shaped our world. It was a pleasure to read this novel, which might help to mold a new world: one in which we will take action to protect ourselves and one in which we will honor Nature and understand her confession: that she cannot continue to sustain us unless we give up the war against her.