Lunch Poems by Deborah Kuan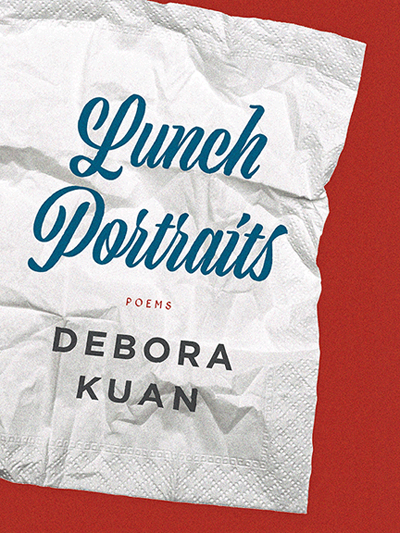 January 19, 2017
Poetry
Lunch Poems
by Deborah Kuan
Brooklyn Arts Press, 2016
96 pages
ISBN: 978-1-936767-50-2
by
Brennan Burnside
Deborah Kuan's Lunch Poems works exclusively within the realm of the unwanted. Her poïesis is a diffuse assemblage of matter, her predilections are loose ends and detachedness. Her writing challenges the Bakhtinian notion that poetry is restrictive discourse rooted in a singular voice excluding all others (a centripetal gesture that Bakhtin calls monoglossia and compares to the subversive freedom of many voices – heteroglossia – that he finds most fertile in novels.) Kuan's poems though refuse even the gesture of an organization into "center" and "margin." Instead, her work is phenomenological in its devotion to the shape and pattern of the thing being shown without dissipating its purity within analytical intellectualizations. The reader must ontologically shift themselves out of the stalwart discourse of monoglossia and look at what is presented; not hide it in vertical relationships to a mythological paradigm of meaning.
Lunch Poems has three sections that gradually invert the relationship of center to periphery. Beginning with a reorientation of the centralizing mythos of a portrait, moving to amorphous biological meditations reminiscent of (but going far beyond) Richard Grossman's pastoral work The Animals and finishing with a collage of poetic subjects that fully engage with and are fed by a carnivalesque atmosphere of styles and voices. Appropriate, because as a whole Kuan is creating a collage from and, thereby, an apotheosis of the margin. It's a task you can visualize if you imagine, for example, removing the centering (and seemingly, essential) gesture of Allen Ginsberg's mother from his poem "Kaddish." This is the process Kuan engages in: a loosening from the subject and subsequent exploration of possibilities within the predicate.
Her opening poem, "Automat Prayer" is the last vestige of a traditional center as she gives voice to a washing machine that prays to be acknowledged through commercial intercourse with currency: "Drop a coin in me./I'll give you a sandwich./You speak burger./I speak pie./Our common tongue/is lunchtime." The mythos of the periphery is that it supports a centering, deistic mechanism. Western religion relies upon this gesture, but Kuan seeks its subtle undoing. "Portrait Of A Woman With A Hoagie" refuses to separate "Woman" and "Hoagie" into subject and object. The speaker exerts the subject/object gesture of commercial exchange at the poem's beginning: "I want to drown in six pounds of macaroni salad/The groans of Super Bowl Sunday. The cries of triumph/I want hoagies unfurled from cold foil." Yet, the image of "Hoagie" subsumes the voice of "Woman." The image of "Hoagie" rises above vertical relationships to emerge in horizontal equality with divinity: "When God closes one door, somewhere/ He opens a hoagie." The hoagie eventually causes the transubstantiation of God into the initial subject, "I", who longs to drown in macaroni salad while watching the Super Bowl. The centering gesture of God becomes lost in the reorientation of "God" and "I" to objects in a periphery where they exist with not against the image of "Hoagie." This is the gesture Kuan, in several different ways, uses to shift hierarchies so that the mystical obfuscation of their existence is uncovered and explored when seen in a jocular, horizontal relationship.
Kuan further develops this gesture in the second section where the marginal becomes a pastiche that defines and includes the subject, where the subject becomes less of a root and more a diaphanous branch of possible meanings. Her titles repeat the suffix of "Mammal" ("Baby Mammal," "Teen Mammal," "American Mammal" etc.) rendering the human in consonance with human creations ("The Clock") and metaphysical phenomena ("Sui Generis.") The exercise is especially effective with her poem, "Partridge-Head," substituting a particular synecdoche for human ("Mammal") with a piece of an animal (animals, traditionally being considered marginal and dispensable in Western tradition): "I found the partridge one night dead in the middle of the street/... I stuffed and glued him to my helmet and spray-painted the whole thing gold./... I called him "Brother I never had"/...When I dreamed, I dreamed myself weightless.../Now I was lighter than a piano key between city buses./Now I was a pharaoh, swinging my arms into song." Kuan, by placing a dispensable item ("helmet") on a marginal object ("partridge") in the center of discourse reifies it into something eternal ("pharaoh.") The periphery is an untapped resource flush with life. In consonance with the myriad of unspoken voices within it, the center is broadened and strengthened.
The final section speaks from a myriad of discourses. The subjects in these poems (usually indicated in the title but not necessarily) indicate not a center but a space. In "Seizure," Kuan uses the image of a cloud, which reappears in several poems in the collection, to indicate a species of being that breaks from centralized discourse to become outside of integrating, centralizing forces of speech and being: "One chemical cloud breaks from the herd./It's a brain under gas. It's a gold harp laughing." Kuan's "cloud" is a loose end, a disconnection resulting from the rampant forward motion of the herd; the disconnections and subsequent developments occur without the restrictive silencing of a centralizing etiological structure. The resultant being ("gold harp laughing") develops its own species of eternity.
The space of the cloud encompasses the gesture that Kuan appears to be making: creating space for potential is the only bastion of true being, of life. In that vein, her collection is not just poems working with center and periphery but an etiological suggestion for re-thinking how ontology organizes itself toward rote centering. Perhaps Western perception could benefit from loosening its hold on the center and, to paraphrase Martin Heidegger, allow being to approach one unformed and unobstructed by the past. To revel, in other words, in the infinite potential of the present moment in all its facets.