The Knowledge by Robert Peake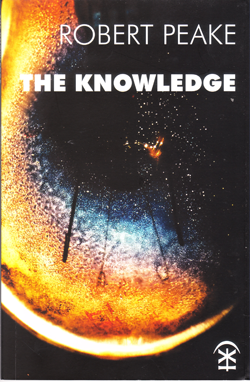 November 12, 2015
Poetry
The Knowledge
by Robert Peake
Nine Arches Press
ISBN: 978-0-9931201-1-4
Price: £9.99
Review by
Abby E. Murray
If you don't read Robert Peake's The Knowledge as a taking-up-again of existential conversation, you're doing it wrong. If you do not imagine him sharing your seat on the evening bus as it rattles homeward, him spilling the poems and you listening, you'll miss the delicacy of his stories. If you do not reveal him to be part fish, part bird, part grass, you've lost your courage. I write this under the defense and influence of Richard Hugo's certainty: everything I tell you may well be wrong.
In The Knowledge, Peake widens the lens through which he continues to explore mortality. In The Silence Teacher, he crushed us with the weight of an infant's death. This matters. As a poet, Peake's voice is complex without the burden of confusion; he knits with the familiar and complicated threads of fatherhood, grief and survival. But The Knowledge steps confidently from the family circle into the wideness of humanity. It expands around its audience like a blanket tossed over our shoulders – an act of good will – but it leaves us feeling more exposed than ever.
One of my favorite poems in this collection is "Grass-Talkers". Here we see for the first time in ages the green blades rising on hillsides with Whitman-esque resilience, their wisdom knowable "only to ants and wood lice". They know "who the wind loves best" but reveal little even when begged to do so. The grass offers "something to water when all the orchids die, // and a better place to fall than concrete." This is Peake's signature. He reveals the subject of human poetry at its most generous and most demanding: "Do not ask me to symbolize the ones / you love. I will not whisper be patient / or endure." When we look to the natural world for what comfort we have planted there, Peake reveals a dreaded truth: this planet upon which we walk is not afraid to turn cold beneath our touch.
A poet with the gumption to make the ground we walk on seem unstable must also be comfortable unlatching the gate around caged language. In "Have a Nice Day!" we are given "why not?, instead, a day / of kumquats" and "a day bedecked in drops / of kerosene, and nights / lit only by reflecting snow." Peake's writing may be calculated but it doesn't necessarily observe caution. It relies on the surprise of our discovering awareness. In "Blessing the Bankers", the poet asks
...what is innocent? We think, at first, a baby,
upon whose face the weather moves in bursts,
who has not discovered volume control
and empties his bellowed lungs with wailing.
Here, too, in the dusk of life, we wail.
We thought the good times would never end,
forgot the dams were built against bursting,
how terrible the water, still and black.
Even when I am reminded that "the good times" will end (and, hell, probably ended long ago), I still question whether Peake knows this through observation or experience. Such careful attention to the swarms of fish, flies and robins in this world draws my attention to Peake's development from previous books to The Knowledge. As a fellow human, he reveals our environment out of concern and tenderness, but he does so with the conviction of nature's own voice.
The collection is divided into three sections (The Argument, Postcards from the War Hospital, and Smoke) that experiment tentatively with sectioned poems, all of which magnify tangible, if not biological, subjects: siblings consuming each other in the womb, the natural "elements" of America, and a handful of London-based locations cracked into like walnuts in "Smoke Ring".
I'd be remiss not to mention some feeling I have about Peake's being British-American and the iffy relationship between contemporary British and American poets, which, though some argue is weak, I believe is strengthening not only because of Peake's poetry but his Transatlantic Poetry series as well. The fact is, there is no excuse for Americans not reading enough Brits – and Brits not reading enough Americans – other than the overwhelming volume of poetry being written compared to the mulishly stubborn number of hours in a day.
The bonds formed by poets who read each other across oceans are ones of deep commitment and close study, all maintained in the silence of our heads and blindness of our absence. If Robert Peake tells me to "Have a moose day. The kind with horns", I consider it a brotherly obligation to do so.