Staying Alive by Laura Sims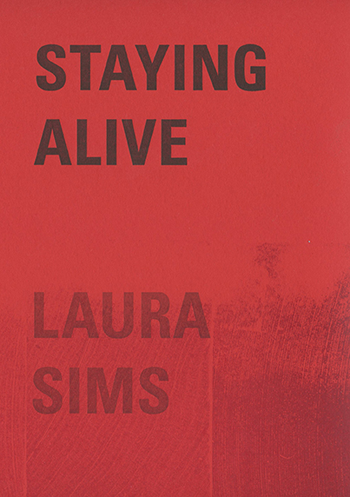 May 5, 2016
Poetry
Staying Alive
by Laura Sims
Ugly Duckling Presse, 2016
180 pages
ISBN 978-1-937027-62-9
by
Sean Speers
X
About Sean Speers
Sean Speers is pursuing an MFA in poetry at The New School. His poems have appeared or are forthcoming in Penn Review and The Dreams Journal and his articles have been published by the USA TODAY network. He lives and works in New York.
In her fourth collection of poetry, Staying Alive, Laura Sims revisits familiar grounds the way one would revisit a cemetery. The poems are eerie, reverent and unrelenting in their grief. At the core of the collection is apocalypse and the driving force is decay. It's a story as old as time told without narrative, told only though gaunt images skeletal in appearance yet plump with substance, "Tidbits of bone or//A fat red sirloin//Forked on a stick". Sims has created a pastiche of the most memorable tales of the world's end, then "Gutted, slashed//And gutted" until all that remains are those images which are most brilliantly haunting and hauntingly brilliant. She borrows from Cormac McCarthy's The Road, H. G. Wells' The War of the Wolds and the TV show Voices from Chernobyl, among others.
The pages themselves chart an absence: words placed sparingly, carefully on the page, making a compelling case for barrenness. Immediately we find "The source of our decadence—all of deep space—extracted" yet what remains is decadent in its obvious necessity. The poems sound like sirens from thin air and impress with urgency. I challenge you to find an extraneous mark. The poems read like road signs might if they were written by William Carlos Williams leading through a scene in a Tarantino film on the way to Hell.
The city teems. Above
It isn't heaven; it's
The ruin
Where
You shine
The style of the book is not unlike Sims' previous collections: aptly spare and with an eye for spatial arrangement. The collection is split into three sections, though I found it difficult on a first reading to justify the divisions. The afterword goes a long way to clarify, but I still wasn't entirely convinced the section breaks weren't just an excuse to add a few more (admittedly killer) epigraphs. The voice is undoubtedly the same we find in her first three collections, and remains unwavering: candid, intelligent and "grim set on living" while everything around crumbles. If her second book of poems, Stranger, is a collection of words between a poet and her mother's ghost, we might think of Staying Alive as a collection of "Words////Between a person and her soul," her manic, death-anxious soul.
I get the sense reading Sims's poetry that she is most comfortable writing about tragedy, but that may well be because she makes it so comfortable to go along with her. It's not that she extracts the horror but that she sharpens it into sublimity. She focuses so intensely that you can see life wiggling in the most desolate corners of the earth. She doesn't lament empty space but shows you that it's not as empty as you thought; "the atom is everywhere". She even takes time in the afterword to explain that bleak, dusty Mars shows signs that it may once have fostered life. It is exactly as she says, "squint and the city revives," and this is what the collection itches to do. Zoom in far enough on the sedentary and you'll find activity, far enough on death and you'll find life.
"We'll stand between death and its shining ideals//We'll fatten from hunger and light the whole earth".