Demigods on Speedway by Aurelie Sheehan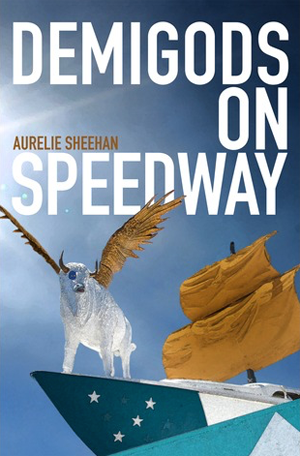 August 27, 2015
Fiction
Demigods on Speedway
by Aurelie Sheehan
The University of Arizona Press, 2014
160 pages
ISBN 978-0-8165-3110-3
by
Justin Bendell
X
About Justin Bendell
Justin Bendell is a writer, teacher, and musician living in Albuquerque, New Mexico. His stories and poems have appeared/are forthcoming in Hayden's Ferry Review, Washington Square Review, Mason's Road, and elsewhere. He has an MFA from Florida International University and a B.S. from the University of Wisconsin-Madison. He is a fiction editor for Sliver of Stone Magazine and a former resident of the Old Pueblo.
Website:http://justinbendell.com
In Demigods on Speedway (University of Arizona Press, 2014), Aurelie Sheehan delivers a darkly humorous collection of stories on the haves and have-nots of recession-era Tucson, Arizona. The collection encompasses sixteen taut, interlinking stories broken into three sections—Journey, Story, Escape—which serve as thematic scaffolding.
Sheehan, a professor of fiction at the University of Arizona, is the author of two previous novels and a couple story collections, yet this is the first major work to deal explicitly with her adopted hometown.
She narrows her focus here to a handful of characters, many of them tethered to apartments and jobs on Speedway Boulevard, a main artery that Life Magazine once dubbed "the ugliest street in America." For all of the attention paid to Tucson in these stories, "Demigods" is not a Chamber of Commerce brochure. Few characters in these stories appear to like Tucson. Their hopes and dreams grind against a reality of low-paying service jobs and dead-end relationships in a city as likely to cast them off like tumbleweed, as it is to save them.
The descriptions of the Old Pueblo are well executed. Sheehan gets beneath the sunbelt tourist sheen, revealing the grit and shabby beauty of the city compromised by economic recession and Phoenix's anti-immigrant decrees. The characters, too, hold their own. Each is enriched by Sheehan's compassion and keen eye for detail. Mythic character names—Artesia, Croesus, Zero, Cerberus—lend an added heft to the stories, infusing them with allegorical significance.
The first story, "Olympus Falls", establishes the setting and the tone of the collection—one imbued with racial tension and class disparity, a city core of strip malls and apartment complexes rung by gated homes with in-ground pools, an inversion of colony and metropole.
It introduces well-heeled Raytheon executive Zero on his commute through Central Tucson, an urban desert with "[n]othing living, nothing that matters." His interpretive lens sets the tone of the collection, signifies the economic and racial demarcations between the Raytheon lords and the regular Joes and immigrants who occupy "lesser Tucson." From the safety of his expensive sedan, Zero reacts to the "lazy sons of bitches" who live in "dumpy apartment buildings." Long married, he proceeds to orchestrate a sexual rendezvous with co-worker Alyssa who has "[a]n ass of mythological proportions!" Though the line is equally successful as self-reflection.
In "An Island of Animals," internet-date Sarah remarks to Wilbur that "when you're on Tanque Verde closing in on central Tucson, there's actually nothing to wistfully stare at but for men in dinosaur suits, the twenty-foot T. rex in front of McDonald's, and a few crappy pieces of wood furniture splintering in the late afternoon sun outside secondhand stores."
One of these dinosaurs takes center-stage in "The Golden Promise of Flight and Good Wishes." Howie is a corpulent young man semi-relieved to have a job working as a sign spinner on Speedway, if only to assuage his mother, who "push-pulls, and that's what pisses him off." But the job exposes him to the world from which he has hid. And it is a woman from a next-door barbeque joint, drunk and eager to engage him, her friends watching and laughing, who seals his fate.
"Hell is other people" is one of the premises at work in this collection. The other: enjoy the moment.
In "The Lotus Eaters," Paul and Artesia (from an earlier story) traipse about an abandoned mini-golf course. Artesia, under the influence of happy drugs, falls in love with her hot, dusty city (a first in the collection), finding ephemeral joy and release from the dismal state of her life in the aftermath of her expulsion from home. That the escape is temporary is both a truism and besides the point.
It is clear that Sheehan was conscientious in the way she constructed this collection. Characters introduced early on recur later, often through others' eyes; storylines conclude only to reappear in subsequent stories. This clever weave of break and fusion deepens the reading experience. Sheehan creates a layered, Technicolor world of desperate lives on the brink of something—a breakthrough that might save them from well-carved ruts or imagined limitations—and a city that rarely does them any favors.
Though most of the story is written in intimate third person, Sheehan breaks from this comfort zone to experiment with point of view. In "Late Night on the Radio," a radio host monologues on the privatization of Tucson school curricula. "Tasks" is a list story with mythic undertones about a man struggling to break free from the orbit of his domineering mother.
Two later stories, "At the Spa" and "The Three Graces," continue the story of Zero's initial affair through the perspective of his mistress, Alyssa, who runs into Zero's wife at a spa, and later, at a botanical garden. The latter story, told through the rotating perspective of four women, is a centerpiece of the collection. Three women friends wander through the cactus gardens at Tohono Chul. Zero and his wife show up. Exchanges are made. The narrative hops from woman to woman, showing their perspectives of the tense moment. A metaphor of cacti to women in distress: "The cacti aren't really dry or barren. They just know how to conserve."
Overall, "Demigods" is a story collection in the best sense. Taken alone, the stories work, but read as a whole, the character threads, broken and wedded—gain fuller dimension as early decisions are unmade or strengthened in later stories. Highly recommended for those interested in character study, exploration of the struggles of regular people in a dusty edge city, vibrant descriptions, and expert handling of point of view.