Going Down by Chris Campanioni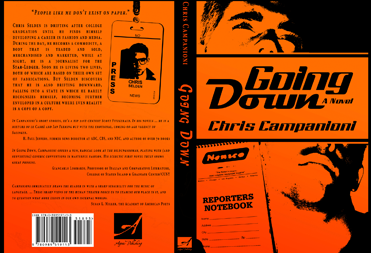 Going Down by Chris Campanioni
Fiction
Aignos Publishing, Inc.
319 pages
ISBN 978-0-9895191-1-3
Reviewed by Beth Gilstrap
Chris Campanioni's ambitious debut novel, Going Down, tells the story of model and journalist, Chris Selden. Unsure of what to do post-college, Selden finds himself tempted into a world of popularity and commodification as a fashion model. He is ultimately consumed by his own spectacle.
The book opens with less of a scene and more of a barrage of images–flashing lights, demands for "languor" and "desperation," a flurry of production assistants who seem to suffocate the protagonist. It is difficult to find one's bearings in this world. Flashbacks come early and often; perhaps this is meant to represent Selden's fragmented voice as he musters through his identity crisis since it has the chaos of stream-of-consciousness without using first-person.
For much of the book, Selden works as a model by day, a journalist for The Star Ledger by night, and in the hours in between, the perpetual partying "it-boy." He approaches both potential careers with a sense of irony and heavy skepticism, but he ultimately gives up his position as a reporter. Selden is psychologically thin, morose, and somehow amidst all this fevered activity, bored. With existential angst and cynicism in line with Holden Caulfield and Quentin Compson, Selden seems to both condemn and adopt the principles of this nasty, image-obsessed world; however, this book is not the traditional bildungsroman it is touted to be since the protagonist fails to reach much moral or psychological growth despite a severe personal loss and international travel. If one continues to participate in a lifestyle one abhors, how much growth can occur? The reader is held at arm's length from the protagonist at all times and so, we wind up with an unreliable narrator who professes to want to write more than anything, but his actions throughout the book say otherwise; he's as much in love with the image of the writer as he is in love with his own image.
However, if the reader pays attention, he/she can also see Selden's vulnerability and self-doubt about his own creative abilities: "In college, he had written a few things that had excited a few people, but he lacked the confessionary air of honesty necessary for a writer of any import, and it was this inability to get to the heart of anything that reduced his fiction to a reprinted still life of water lilies; a pretty picture, sure, but nothing as transposing as the real thing. He stopped short in the excavation because he was afraid of what he might find" (8).
Some time later, in one of many confusing italicized sections, the narrator claims Selden has "fashioned himself an existential hero in this way; tortured by time and circumstance, alone against this onslaught of immovable forces we call fate…But rather than feeling sorry for himself, he thrived on it; this secret knowledge of self-awareness, a distinction of separation which bordered on superiority. In short, he was totally delusional." Is this Selden narrating from a great distance? Where does one land when even the narrator and protagonist profess knowledge of the world's construction, its artifice? I don't know, but maybe that's the whole point.
Midway through the book, Selden is living in a luxury apartment owned by a wealthy family and occupied by their spoiled daughter and the transitory coterie of people she finds interesting. It's an endless, mind-numbing party of self-worship. Everyone sleeps around, but even sex doesn't hold anyone's attention. This world is reminiscent of Andy Warhol and his Factory exploits; as I read, I kept thinking of Warhol's famous quote, "I am a deeply superficial person." Selden continues to love and despise himself. Of course it seemed inevitable to him that his friend Dave made a documentary about him. What else could these characters who are not friends, and are, at best, shell characters (mere projections of Selden's own eyes), do but point their gaze at him, and share it with the masses? It's gaze upon gaze upon gaze–a dizzying Russian doll construction. Selden never decides "whether it was better to be the art, or the artist" (127).
As much as I admire Campanioni's ambition and, at times, playful structure and form, it is not as successful as say Jennifer Egan's similar approach in A Visit From the Goon Squad. Campanioni isn't dealing with an expanse of time like Egan; as a result, rather than enhancing the story, the structure becomes distracting. Campanioni is influenced by the Situationist International movement, in which avant-garde artists and author/theorist Guy Debord claim, "All that was once directly lived has become mere representation." Since Debord committed suicide in the 80s, I wonder how he would interpret social media and contemporary society. Campanioni raises salient questions with his Debord-influenced, chaos-driven prose style especially when taken in context with Debord's claim in his "Commentaries on the Society of the Spectacle," that all life becomes "repressive pseudo-enjoyment."
Pseudo-enjoyment seems to be Chris Selden's underlying thesis on modern life; as a result, things get dark, but part of me wishes Campanioni had kept going, pushed further, and shown us what happens to Selden when he loses everything, when this world obsessed with perpetual youth, constructed beauty, and excess finally turns on him. He knows he's addicted to this life, but he has yet to hit bottom.
All that said, Going Down has many lovely and tender moments, most of which occur with his family, and in particular between Selden and his Cuban mother, Ana. In one of the most poignant scenes of the novel, Selden wonders if he should tell his mother the truth about his dissatisfaction with living life as his own doppelgänger:
"If he told her everything, she would be overwhelmed and disconnected, a story without any context…And then there was the matter of removing the blanket, crushing the façade and shattering her world. Chris knew how painful that could be. It reminded him of the first time they all had huddled into the Volvo station wagon, making their way south to visit his abuela in Miami. A jovial family trip had turned devastating for him in Jacksonville when the realization hit Chris: he would not meet a smiling Mexican with whiskers and a poncho, welcoming them "South of the Border" at he end of their journey. That he would, in fact, not meet anyone named Pedro during any portion of the trip. He had never really stopped looking" (128).
It's no secret that Campanioni himself is similar to his protagonist; he is a model, an actor, a journalist, and creative writer. I look forward to reading his future work when he pushes to fully excavate, as I'm most interested in what he might find.