Volume 3, Issue 2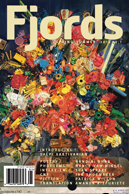 Introducing new writers is one of the biggest pleasures of editing Fjords. I'm proud to introduce three essays by new writer Salpi Vartivarian. The sophistication and depth of philosophical interplay at work in her writing is impressive, clear and poignant. Using her Armenian-American heritage as a backdrop for the personal essay, Vartivarian points out similarities inherent in every family and social group with inventive phrasing and a lot energy. In her work there is room for the body and room for the mind.
My Editor's Choice is four poems by Nandini Dhar. Her poetics about the expectations and entrapments of girlhood, looking for her sister's home, an exploration of past tense through her sister's view of oral culture and a martyred political activist who grew into an Indian legend illustrate a rich cultural tapestry.
I'm excited to feature the poems of William Wright and Ryo Yamguchi alongside Brian Clifton, Cal Freeman, Karen Chase, Jenny Morse, Gray Tolhurst, John Warner Smith and V.P. Loggins. We have fiction from Englishman in France Patrick Wilson and an interview conducted by Steve Komarnyckyj with British poet Sean Street. Inara Cedrins translates Latvian Amanda Aizpuriete in five untitled poems that range from the mystical to ars poetica. We're glad to have creative non-fiction by Jan Shoemaker and a prose excerpt by Margaret Barbour Gilbert from her full length book Sugaring Off.
A rooftop piece by eighteen year old photographer Eleanor Leonne Bennett and a realist painting that looks like collage by Steve Ellis are two of our artists for the edition. After watching Sara Cwynar's career really grow in the last year, I'm thrilled to have her make our cover so exuberant. The work she's doing around the idea of kitsch is entertaining and lively.