Interview with Tamar Ettun
September 28, 2017
Interview with Tamar Ettun
by Heather Zises
This fall Tamar Ettun is launching Pink, the latest season in her four-year long performance series, Mauve Bird with Yellow Teeth Red Feathers Green Feet and a Rose Belly? Pink is the third installment in the tetralogy, and incorporates sculpture, performance, video, and works on paper. For this installment, the artist will explore the color pink being synonymous with aggression in her exhibition at Fridman Gallery, Eat A Pink Owl. Historically, pink used to be a man's color and inadvertently became ascribed to women a symbol of submissiveness after World War II. Ettun's ongoing body of work focuses on primal emotions, each symbolized by a primary color such as blue for empathy or yellow for desire. The timing of Pink coincides with widespread post-electoral aggression, allowing Ettun's all-women's performance troupe, The Moving Company, to question the boundaries between objecthood and performance. Like an unscripted satellite of the recent Women's March on Washington D.C., Ettun and The Moving Company are combating themes of social justice whilst exploring movement of the body.
X
About Tamar Ettun
Tamar Ettun is a Brooklyn based sculptor and performance artist, who is the founder of The Moving Company. Ettun received her MFA from Yale University in 2010 where she was awarded the Alice English Kimball Fellowship. Ettun has had exhibitions and performances at The Watermill Center, e-flux, Bryant Park (presented by the Art Production Fund), Indianapolis Museum of Art, Uppsala Art Museum, Sweden, PERFORMA 11 and PERFORMA 09. She is currently preparing for a major solo exhibition at the Barrick Museum of Art in Las Vegas, opening in 2018.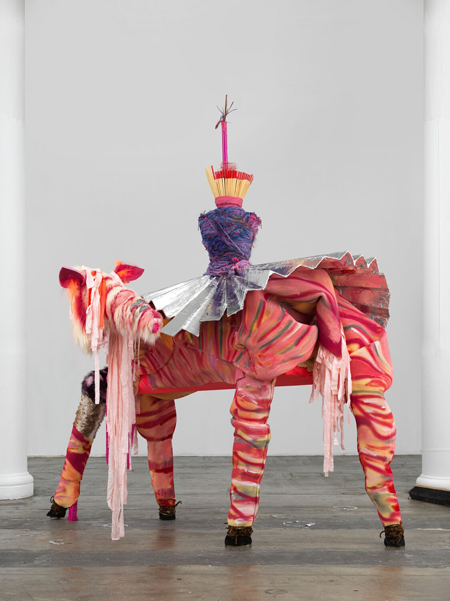 Tamar Ettun
Pink Horse with Warrior with Silver Skirt, 2017
Mixed Media
116 x 84 x 84 inches; 295 x 213 x 213 cm
Heather Zises: Your new show, Eat a Pink Owl, opens at Fridman Gallery on September 9. What themes can viewers expect in the new season of your four-year long performance series Mauve Bird with Yellow Teeth Red Feathers Green Feet and a Rose Belly? Will The Moving Company (your performance troupe), be performing at the opening?
Tamar Ettun: Each year in the tetralogy has a color and a theme, the Pink year is the year of aggression. Pink and aggression was chosen a while ago, then the election happened, and everything happening since added a strong sense of urgency to thinking about aggression through art.
On a formal level, the work blurs the boundaries between sculpture and performance, where the performances are sculptural and the sculptures are performative. The Moving Company will perform the Pink chapter that coincides with the exhibition on October 1, and I will do subtle interventions in the exhibit throughout the show.
HZ: During our recent studio visit, we spoke about pink and its origins. Turns out pink has a rather paradoxical history in terms of its association with gender identity, social politics and human emotion. Can you elaborate on this topic and what David Byrne calls the "pink effect" in his 2003 article Colors/Pink for Cabinet Magazine?
TE: Pink used to be a boy's color before World War II, and blue was a girl's color, which was considered more delicate and pretty. During the war, pink triangle badges were used to identify gay men. When the war ended, women embraced pink but it's not completely clear why. Perhaps because the men that returned from the war were crushed and traumatized and women needed to find an energetic color that allowed them to take a more active role in society, and the queer association with the pink triangles opened that door.
In 1979, researchers discovered Baker Miller Pink, a color that cast a calming physical effect on the body by lowering one's heart rate and steadying the breath. Based on this discovery, prisons started painting their cells pink, which successfully reduced hostile behavior and aggression in the prisoners.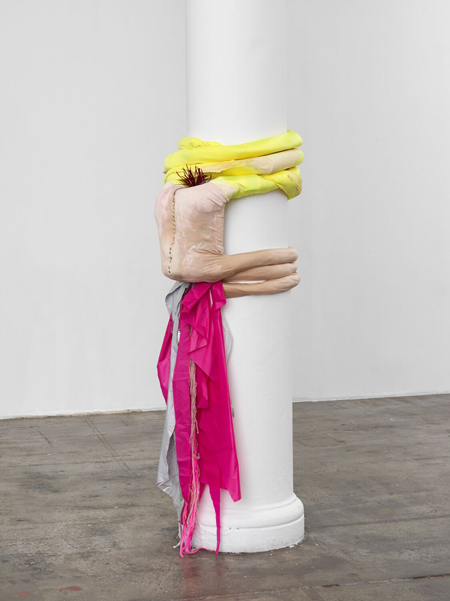 Tamar Ettun
The Hugger
HZ: The color pink has been ubiquitous in the past few years from 4th wave feminist initiatives (i.e. Pussyhat Project, Diana Kane's Feminist Gold tshirts) to Millennial Pink everything (Rose Quartz as the 2016 Pantone Color of the Year, Rose Gold as the new 2015 iPhone color). Regarding Mauve Bird with Yellow Teeth Red Feathers Green Feet and a Rose Belly, how do you think your new Pink season will engender the series?
TE: I feel very connected to the references you make. It's exciting to see how this color is evolving on a global level: as pink gains momentum as a symbol of activism and hope, it sheds its associations as a submissive color for women. I'm a woman working with the body, my body, making sculptures and performances with women bodies: Engaging with Pink this year added responsibility to how our public performances are perceived and it pushed me to rethink pink as a powerful color.
HZ: As a performance artist, you perform in a myriad of venues from indoor gallery spaces to outdoor pavilions and parks. What is your (and The Moving Company's) approach to contexts that are restrictive versus more flexible?
TE: I am a big believer in creating art in public spaces for non-traditional art audiences. With the political climate changing I've been even more committed to creating these large-scale, avant garde performance pieces to create social impact through art. Performing in a controlled environment of a gallery or a museum is very different than working outside: a lot more can go wrong outside! There is more risk, and more chance. A few years ago, I had an exhibition at Transformer in Washington D.C. During the show, I did an outdoor performance with one of the first inflatable sculptures I made. A drunk person passed by and started screaming and cursing and people got scared he might pull out a knife. I believe that these confrontations with the audience are valuable, and that the inclusion of idiosyncratic art in non-art communal spaces is a crucial act of resistance, especially today.
This year The Moving Company started working with at risk youth in Crown Heights doing a series of "Playshops" and thinking about pink and aggression with them. The youth experiences and stories informed and anchored the work.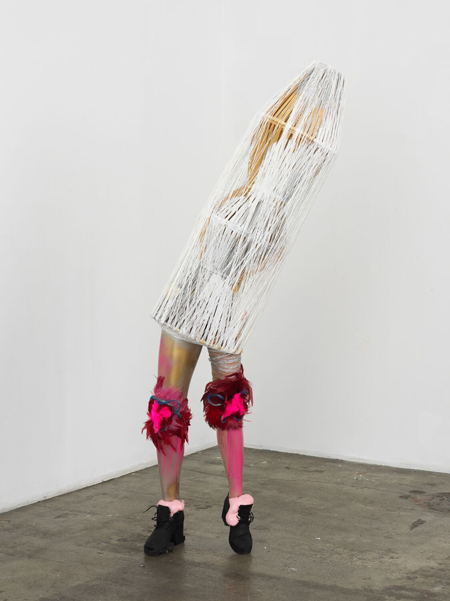 Tamar Ettun
Legs with Woven Basket, 2017
Mixed Media
78 x 32 x 15 inches; 198 x 81 x 38 cm
HZ: Many of your new works seem to push the boundaries of gender whether it's an Isa Genzken-like totemic sculpture with both male and female mannequin legs, or a construction hard hat pierced with screws that coaxes the inner Joan of Arc out of the viewer (or wearer!). How much influence (if any) did pink's paradoxical history have on the creation of these sculptures?
TE: The realization that pink isn't as sweet and simple as it's portrayed in the market today was very informative to my creation process. By mixing male and female mannequin body parts and having multiple women warriors in the exhibit, I was hoping to create work that is free from gender stereotypes, fluid in thinking about the body and sexuality, and complex in thinking about aggression and assertiveness.
HZ: You have a long history of creating inflatable objects with parachute material for your art. How will you incorporate the material into your new series?
TE: For Pink, I collaborated with ABscreenwear who created the garments for the performance exclusively from my pink (and white) parachute fabric. The fabric is also used for some of the figures in the exhibition, including two inflatables. I started working with this fabric after my mandatory service in the Israeli army as an education instructor in a paratroopers' unit. There were 170 men and 4 women in the unit. This experience made me think a lot --particularly this year of Pink and aggression--about the unique challenges that women face in the army, any army, all over the world. Even if the armies are on opposing political sides, women will face similar challenges. Working with parachute material is a way to charge it with a new meaning.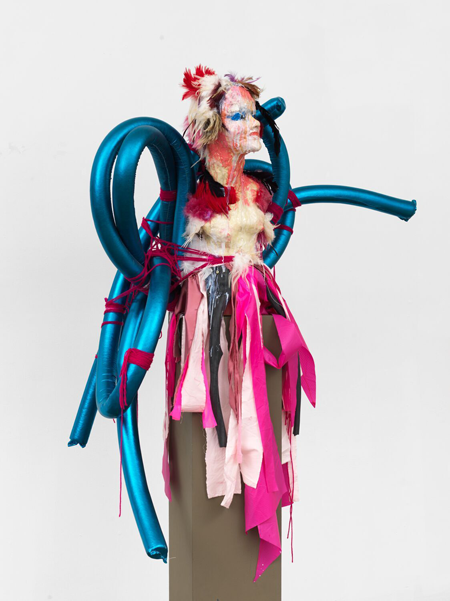 Tamar Ettun
Wet Bird, 2017
Mixed Media
60 x 44 x 36 inches; 152 x 112 x 91 cm
HZ: In your writings, you describe a childhood restricted by the rules of religion. Despite this, you found temporary ways to escape through subtle changes in clothing. Do you think these early behaviors led to your current interest in creating costumes that allow for emotional and/or spiritual transformation?
TE: I grew up as an Orthodox Jew in Jerusalem. The story you're referring to is when I took off my high socks before taking an art class at the Israel Museum: Ultra Orthodox girls/women are supposed to wear socks up past their skirt line so no skin is revealed. Taking off the socks was an act of rebellion, which was clear for anyone from the community I grew up in, but probably not so clear to anyone who wasn't raised that way. If you see a girl with a long skirt and no socks you wouldn't assume she contemplated taking off those socks for months in advance, and that it was an extreme act of resistance for her. The wearable objects I make limit the body's movement and shape it in new ways, which could be a metaphor for cultural or religious limitations.
HZ: You were formally trained as a sculptor at Bezalel Academy of Art and Design in Jerusalem, but you have significantly expanded your practice since then. What was the catalyst that led you to explore time based media?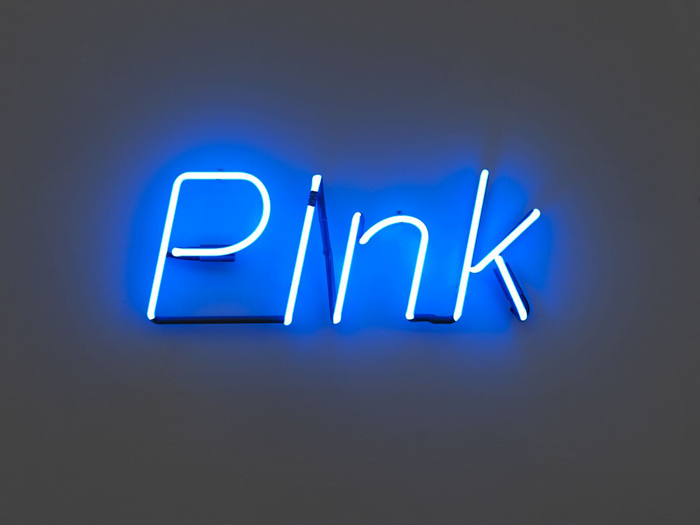 Tamar Ettun
Pink, 2017
Neon
23 x 9.5 x 2 inches; 58 x 24 x 5 cm
Edition 1/3
TE: My first performance "Empty is Also", which was commissioned by Performa 09 while I was a grad student at Yale, was a pivotal piece for me: I've been making videos for a while, but this was my first live performance. In that performance, I collaborated with Emily Coates, one of Yvonne Rainer dancers, on a sculpture/performance piece where I built an installation evocative of a landscape and she danced on it. Since then, I've continued making performances that deal with similar formal questions.
HZ: In addition to Martha Wilson and Yvonne Ranier, who are some of your major influences?
TE: Bob Wilson's rich and visual performances are important for me. During the Blue year, we did a residency at his space, The Watermill Center, where we created the piece. It was an incredible experience. Every detail in that space is considered, just like his performances, and working inside Wilson's dream space was very special. I feel very connected to Mierle Ukeles' work too, specifically her pieces regarding gender, labor and spirituality. I also love Nick Cave's soundsuits -- and The Moving Company will perform Pink during his upcoming show at the Katonah Museum on November 5th!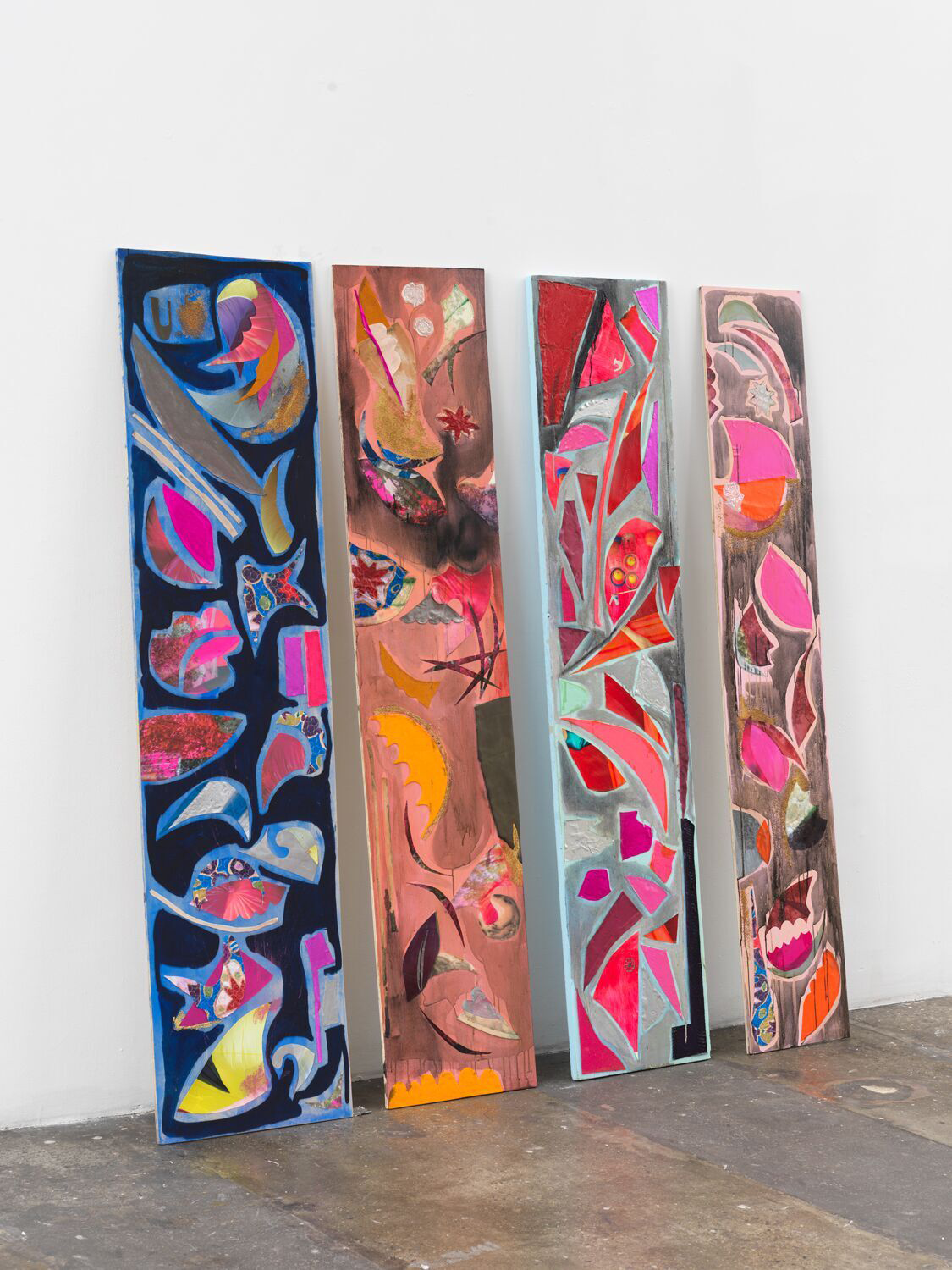 Tamar Ettun
Totems I-IV